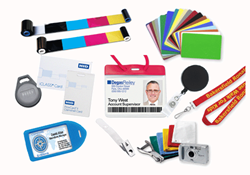 The ability to pull up and resubmit a prior order with a click of a button makes shopping that much easier at IDCardGroup.com.
West Sacramento, CA (PRWEB) October 23, 2013
ID Card Group, a leading provider of ID card printers, systems, supplies, and accessories is now offering a quick reorder option to make shopping even easier at IDCardGroup.com.
Reorder Now is a convenient way to place repeat orders quickly for the supplies customers use over and over - card printer ribbons, blank plastic cards, proximity cards, lanyards, badge holders, reels, and much more.
"We're happy to roll out the much-requested Reorder Now feature," says Mark Soeth, ID Card Group president. "We have many customers who return time and again to reorder a set of ID card printing supplies and/or accessories, and the ability to pull up and resubmit a prior order with a click of a button makes shopping that much easier at IDCardGroup.com."
The Reorder Now button is located on the Order History page within the My Account area. Customers logged into their accounts can find past orders by date or order number.
Customers will be able to change the quantities of a reorder once the Reorder Now button is clicked, but all other product, billing, and shipping information will remain the same. For this reason, ID Card Group recommends that customers check their order details carefully before reordering. Orders placed before October 1, 2013 may have different specifications or options.
Once customers have verified order specifications and clicked the Reorder Now button, their order will be placed in the shopping cart and they will enter the checkout process. Within the checkout process, customers can change order quantities, continue shopping, remove the item from the cart and reorder from the product page, or proceed to checkout.
In addition to Reorder Now, ID Card Group has added the following features – all of which are accessible within the checkout process to make shopping easier:
3rd Party Shipping – Customers with an established UPS shipping account may be able to use their own UPS account to have an order shipped.
California Reseller Tax Exemption - California resellers with an established relationship with ID Card Group can ensure that no sales tax is charged on future purchases intended for resale.
Payment by Purchase Order - Entities with an approved credit application can pay by purchase order.
International Checkout - Global customers can get real-time price quotes and settlement in their local currency during checkout - with standard and priority shipping options.
About ID Card Group
ID Card Group offers a full line of ID card equipment, supplies, and accessories – from identification and access control products, to promotional products for loyalty or membership programs, to gift, payment, or phone cards and systems. Industries such as business, schools, government, military, law enforcement, healthcare, gaming, hospitality, trade shows/conventions, sports & entertainment and more choose ID Card Group for its selection, expert service, and low price guarantee. To learn more, call (877) 868-0012 or visit http://www.IDCardGroup.com.