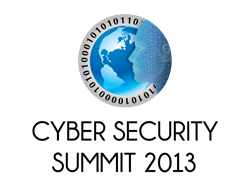 Minneapolis, MN (PRWEB) October 15, 2013
The two-day Cyber Security Summit, held on October 22-23, 2013 at the Minneapolis Convention Center, will feature more than 30 industry leaders in keynote presentations and engaging panel discussions. The 2013 Keynote Speakers and presentation topics include the following: (full speaker biographies can be found here)
Dr. Ron Ross, Fellow, National Institute of Standards and Technology
"Implementing The Cyber Security Framework"
Through the recent Executive Order - Improving Critical Infrastructure Cyber Security, the President has tasked the National Institute of Standards and Technology (NIST) to lead the development of a voluntary and scalable cross-sector framework to reduce cyber risks. Summit attendees will receive the latest update on the framework development, set to be published this October, directly from NIST Fellow, Dr. Ron Ross. In addition, Dr. Ross will share federal perspectives on FISMA; the National Cybersecurity Center of Excellence (NCCOE); Security Engineering and Enterprise Architecture initiatives; continuous monitoring; and the advanced persistent threat. This keynote will set the stage for the need for multi-stakeholder solutions for industry and government challenges.
Barry Caplin, Chief Information Security Officer, Fairview Health Systems
Nate Lesser, Deputy Director, National Cybersecurity Center of Excellence, NIST
"Healthcare – Security Framework and Solutions"
Digital health is changing the way that doctors and patients interact and health information exchanges are being created to enable access to electronic medical records across organizations. How will this data be secured and protected? How will the systems be secured? The National Cybersecurity Center of Excellence (NCCoE) Deputy Director, Nate Lesser, will share the center's strategy and business model in relation to the healthcare cases under development. Barry Caplin, Chief Information Security Officer at Fairview Health Services, will share his insights on how cyber security protocols, procedures, and controls have been architected into the Health Information Exchange (HIX) platform.
Marcus Alldrick, Chief Information Security Officer, Lloyd's of London
"Cyber Risk Prioritization and Preparedness — A Global Risk Perspective"
Given the expanding number of well publicized cyber attacks for various motivational reasons on an expanding range of targets, it is hardly surprising to find that cyber risk has significantly ascended in the risk rankings. According to the recently published Lloyd's Risk Index 2013, cyber risk is now the world's number three risk, and for North America, it is number two. However, while the C-suite is increasingly recognizing and prioritizing cyber risk, is it being adequately informed in how prepared it is to deal with this risk? Does it know what else it needs to do to ensure that its preparedness is up to the task of managing this complex risk? In this presentation we will examine the findings of Lloyd's and other surveys and research to address these questions, and in doing so, highlight areas where further remediation is likely to be required, seek to demonstrate how this remediation can also help reduce other risks, and illuminate the consequences of organizations resting on their laurels through ineffective cyber risk management.
Lieutenant General Harry P. Raduege, Jr. Chairman, Deloitte Center for Cyber Innovation, Deloitte Consulting LLP
"Changing Paradigms of How to Live and Thrive in Cyberspace"
Numerous organizations have experienced significant attacks and breaches involving both public and private sectors. Today, the world faces increasingly serious consequences of a cyber-breach within critical infrastructures, including banking and finance, energy, telecommunications, and essential government services. We've entered an age of interdependence. This presentation will provide insights into critical areas of cyber security affecting government, industry, and academic leaders throughout world. It will also highlight the progress being made both domestically and internationally through cooperation amongst government, business and educational imperatives. General Raduege will also address issues involving cyber war and the possibility of cyber terrorism, international advancements that have been made in areas such as rules for governing cyber conflict, fighting spam, priority international communications, and improving the reliability of undersea cables that carry 99 percent of global internet communications.
Jim Stickley, Chief Technology Officer, TraceSecurity, Inc.
"The Hidden Risks of Mobile Applications to Your Organization"
From physical breaches to the rise of the Internet, the threat from hackers is still relevant and ever increasing. While companies need to remember the basics and remain prepared for the number of physical breaches that occur, in the day of BYOD, mobile applications are becoming a major security threat to organizations and they don't even know it yet. While many people talk about the potential risks of mobile devices, often the true impact of these risks is not understood. Over the last few years, Mr. Stickley has written mobile applications that allow him to hack into users' online accounts such as online banking, PayPal, and Amazon, and he has designed other apps to attack computers through a home or business network using a simple Wi-Fi connection. In this session, attendees will see real-world examples of how mobile applications can be written to be malicious and explore the damage a skilled criminal can cause. While many of these risks do not have simple fixes, Mr. Stickley will provide advice for organizations to reduce their exposure, including what to look for in application settings when downloading new applications to a mobile device, the type of intrusions in the current mobile technology landscape, how to best educate their organization's internal employees, and best practices and policies for organizations to reduce their risk exposure.
Richard W. Stanek, Hennepin County Sherriff
"Cyber Security and the Evolving Role of 'On the Ground' Response Teams"
Over the past 100 years, as public safety threats have evolved, so have the roles and responsibilities of "on-the-ground" response and recovery teams. Our public safety, homeland security and emergency management process and procedures are highly robust for responding to public safety emergencies and natural disasters. As Sheriff Stanek will address in his presentation, as the cyber security threat continues to grow, there is a compelling need to reassess our emergency response strategies for a cyber event.
About Cyber Security Summit 2013:
The Cyber Security Summit changes the paradigm of how we look at digital space and security by clarifying the impact that cyber security has on our nation's government and business operations. The Summits create multi-stakeholder venues, which bring together business leaders; local, state and federal government; and citizens at large, to lead and innovate solutions to cyber threats. With prominent keynote speakers and engaging panel discussions Summit participants will collaborate on cyber security initiatives, learn from industry experts and acquire actionable solutions.