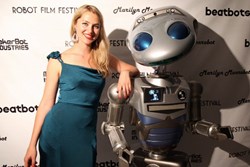 (PRWEB) October 16, 2013
In conjunction with the Robotics Alley Conference and Expo, being held Nov. 12-13 in St. Paul, MN, conference attendees and the general public are invited to a satellite showing of the third annual Robot Film Festival. The showings will take place on Tuesday, Nov. 11 at the Science Museum of Minnesota.
The Robot Film Festival, which was held in July in San Francisco, was a two-day celebration of robots in film, including fictional shorts, animations and music videos.
This satellite showing of the festival will highlight films dedicated to the friendly interaction of humans and robots. It will be hosted by Social Roboticist Heather Knight, President of Marilyn Monrobot Labs and Mike Davin, editor of The Business of Robotics, an online blog and newsletter that covers the global robotics industry.
There will be two showings on Tuesday, Nov. 11. The first will be 5:30 – 7:00 p.m. and the second showing will be 7:30 – 9:00 p.m. Tickets for the public are $16 per person when purchased in advance, and $20 at the door. To purchase tickets, click here.
About Robotics Alley
Robotics Alley™ (http://www.roboticsalley.org) is an initiative to spur public-private partnerships in the business, research and development of world-leading robotics and automation systems. These leading companies, organizations, universities and individuals are involved in some of the world's most innovative and promising robotics projects.