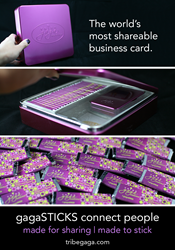 The traditional business card format is stale, boring, and forgettable. We wanted something that surprises you and engages your senses, so we created one eye-popping, lip-smacking conversation starter.
Narragansett, RI (PRWEB) October 23, 2013
Startup TRIBE GAGA has launched a new product aimed at bringing people together in a surprising and memorable way. Its new gagaSTICKS are personal introductions with the look and feel of a stick of gum. Think business cards, except they're not cards at all. gagaSTICKS are sturdy and flexible magnetic sticks that are custom printed and laminated on both sides. But wait, there's more.
Like some other premium business cards, gagaSTICKS can be personalized with your favorite artwork, photos, and text. But that's where the business card comparison ends. That's because, just like gum, every gagaSTICK is wrapped in foil, then it's bundled with a real stick of gum in your choice of flavors.
"We invented a business card that's unlike anything out there," says Cesar Grullón, TRIBE GAGA's co-founder. "The traditional business card format is stale, boring, and forgettable," says Cesar. "We wanted something that surprises you and engages your senses, so we created one eye-popping, lip-smacking conversation starter. gagaSTICKS are made to get stuck in your head."
Working chewing gum into the gagaSTICK format was important from the start, says co-founder Shirley Pereira. "We set out to create the world's most shareable business card," says Shirley. "We disguise gagaSTICKS like sticks of gum and bundle them with real gum because the urge to share gum is a law of the universe," she says. "I don't know why, but you can't whip out gum without offering to share it with someone. Gum is made for sharing."
"Sharing gum is just the start," says Cesar. "gagaSTICKS are about unlocking the power of sharing your passion."
Cesar points to the design side of a gagaSTICK. While the text side is used to capture your name and contact info, the design side features artwork or stylized typography that speaks to the power of passion generally, or represents a personal passion specifically. Networkers can choose a design by one of TRIBE GAGA's featured artists, or upload any image to create their own design.
"The design side of a gagaSTICK is a springboard for a little conversation about anything that gets your juices flowing, be it a recent project, a favorite cause, or an upcoming product launch," says Cesar. "Even the tagline we print on every wrapper – 'what makes you gaga?' – is a cue to ask the people you meet about their passions, and a reminder to share a bit about yours. That'll create a memorable connection every time."
Featured artists, called Passion Partners, create gagaSTICK designs based on their original artwork, says Shirley. TRIBE GAGA showcases and promotes a featured artist's designs as well as the artist's original artwork and related products, such as prints or tees. "That's a big win for everyone," she says. "When our customers love a Passion Partner's design on a stick, they're going to love it on a partner's original print or tee too."
Featured artists earn a 15% royalty on all sales of gagaSTICKS that bear their design. They also benefit from added exposure when gagaSTICK customers share and spread the artist's work, says Shirley. "Every person who buys a box of 25 gagaSTICKS is networking and talking about the artwork on their sticks with 25 potential fans," she says. "And our magnetic format keeps that artwork top of mind. We designed gagaSTICKS to be showcased on a whiteboard or fridge, not thrown in a drawer."
Current Passion Partners include Startup Vitamins, Le Monkey House, and ArtStudio54. Interested artists and designers can visit TRIBEGAGA.COM to request more information.
So what makes TRIBE GAGA gaga? "That's easy," says Shirley. "We go gaga when people connect and stay connected. That's our formula for making the world a better place."
"That passion has kept us going through the misses it took to hit upon the right formula," adds Cesar. "It's all good, though. Having scrubbed off the dross – and that's a whole other story – what shines through is passion and the stick."
Available exclusively at TRIBEGAGA.COM, gagaSTICKS are sold in custom boxes containing 25 personalized gagaSTICKS and a small carry case to share them on the go. Each gagaSTICK box sells for US$24 plus shipping. TRIBE GAGA ships gagaSTICKS all over the world.
About TRIBE GAGA
TRIBE GAGA makes and sells unique products designed to make face-to-face networking a surprising, engaging, and memorable experience.