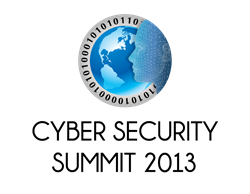 Minneapolis, MN (PRWEB) October 16, 2013
General Raduege, Chairman of the Deloitte Center for Cyber Innovation, will share his insights regarding the latest domestic and global cyber security implications for C-suite executives and government leaders. He will also highlight the progress being made both domestically and internationally through cooperation, including government, business and educational imperatives.
The VIP reception will take place on Oct. 21 from 5:30-7:30 p.m. at the Minneapolis Club. Individuals may purchase tickets at cybersecuritysummit.org.
Members of the media are invited to attend the reception and interviews can be arranged by contacting pankti(dot)shah(at)eventshows(dot)com, Director of Marketing for The Event Group, Incorporated and Cyber Security Summit.
About Cyber Security Summit 2013
The Cyber Security Summit changes the paradigm of how we look at digital space and security by clarifying the impact that cyber security has on our nation's government and business operations. The Summit create multi-stakeholder venues which bring together business leaders, local, state and federal government and citizens at large to lead and innovate solutions to cyber threats. With prominent keynote speakers and engaging panel discussions, Summit participants will collaborate on cyber security initiatives, learn from industry experts and acquire actionable solutions. The 2013 Summit will take place October 22-23 at the Minneapolis Convention Center. Register now at http://www.cybersecuritysummit.org