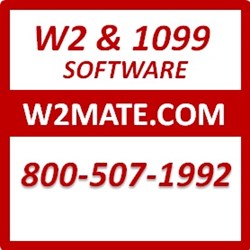 Our W2 Mate software provides one of the most powerful and easy-to-use tools for 1099-INT Filing on the market today.
Chicago, IL (PRWEB) December 24, 2013
2013 form 1099-INT processing module has been released by Real Business Solutions with support for the new 1099-INT layout introduced by the Internal Revenue Service for the 2013 / 2014 tax season. Under new specifications, form 1099-INT has gone from a 3-up (3 forms per sheet) to a 2-up (2 forms per sheet) format. With this update, the dimensions of all the boxes have been changed. Any software application that produces 1099-INT returns or prints on pre-printed forms will need to be re-programmed to support the new specifications.
Starting in 2013, the IRS has also added two new types of copies to forms 1099-INT. The new copies are Copy 1 (for State Tax Department) and Copy 2 (to be filed with recipient's state income tax return, when required). Both copies are supported by the 2013 1099-INT processing module from RealTaxTools.com .
The 1099-INT software for 2013 offers huge savings in time and money for users by allowing them to print an unlimited number of 1099-INT forms on regular white paper. The 2013 / 2014 software can also generate an unlimited number of 1099-INT electronic filing submissions to the IRS for one low fee. W2 Mate software serves businesses and tax professionals across the United States and Canada. Its current clients include accounting firms, banks, hotel chains, universities, municipalities, factories and hospitals, to mention a few.
In a statement Nancy W., W2 Mate product manager at Real Business Solutions, said, "Focused on affordability, ease of use and efficiency, W2 Mate is great for both business filers and accounting professionals processing W2 and 1099 tax forms."
According to 2013 IRS regulations, penalties may be assessed for failure to file correct information returns (1099, 1098 and other similar tax forms) by the due date, without reasonable cause. This includes Form 1099-INT. The penalty may also apply if the filer shows incomplete or incorrect information, or files on paper when required to file electronically. Businesses and accounting professionals required to process IRS Form 1099-INT this year can rely on W2 Mate for all their 2013 / 2014 filing needs.
If the 1099-INT information to-be-filed resides inside Intuit QuickBooks (QuickBooks Pro, QuickBooks Enterprise, QuickBooks Premier), Microsoft Dynamics (GP or SL), Sage Peachtree, Sage DacEasy or Excel, then W2 Mate is definitely the right solution for the job. W2 Mate has a unique mechanism for importing data from different accounting and payroll software to allow users print a wide range of w2 and 1099 forms.
A free 2013 1099-INT printing and e-filing software solution evaluation can be downloaded from http://www.W2Mate.com. Customers can purchase the software and receive it instantly.
You can contact Real Business Solutions by calling 1-800-507-1992, sending an email to sales(at)realtaxtools(dot)com or visiting http://www.realtaxtools.com/.