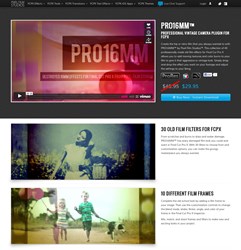 Laguna Beach, California (PRWEB) November 07, 2013
Final Cut Pro X plugin and effects developers, Pixel Film Studios, announced the release of Pro16mm, a package of 40 customizable vintage film effects for Apple's Final Cut Pro X.
"With the ability to customize and mix and match the filters, PRO16mm is a really versatile film effect plugin for Final Cut Pro X," said Christina Austin, CEO of Pixel Film Studios, "You can go from an old vintage look to a grungy aggressive style in the few clicks of a mouse in FCPX."
From scratches and burns to drips and water damage, PRO16mm has every damaged film look editors could ever want in Final Cut Pro X. With 30 filters to choose from and customization options, users can make the grungy masterpiece they always wanted.
Filmmakers can complete the old school look by adding a film frame to their image. Then use the customization controls to change the blend mode, shake, flicker, angle, and color of their frame in the Final Cut Pro X Inspector. Then they can mix, match, and stack frames and filters to make new and exciting looks in their project.
Whether users are making a video of a kid's birthday party or a grungy skater video, PRO16mm can give a film the look they are going for in Final Cut Pro X. By simply changing the blend mode, color, contrast, and saturation, filmmakers can watch as their film goes from vintage to grunge in front of their eyes.
PRO16mm was professionally created to work seamlessly with FCPX. Editors can instantly customize their settings in the FCPX Inspector and see the changes appear on the image in real-time. PRO16mm is a powerful plugin that will completely change the look of a film.
Established in 2006, Aliso Viejo, California-based Pixel Film Studios is an innovative developer of visual effects tools for the post-production and broadcast community. Their products are integrated with popular non-linear editing and compositing products from Apple FCPX. All Apple, the Apple logo, and Macintosh are registered trademarks of Apple Inc. in the U.S. and/or other countries. All other trademarks and trade names are the property of their respective owners.