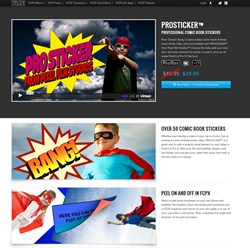 Our fans have been asking for more and more comic book themed plugins and effects for Final Cut Pro X.
Laguna Beach, California (PRWEB) November 04, 2013
Final Cut Pro X plugin developers and post-production film house, Pixel Film Studios, provides FCPX users with set of 50 comic book-styled sticker animations for Final Cut Pro X today with the release of ProSticker.
"Our fans have been asking for more and more comic book themed plugins and effects for Final Cut Pro X, "Said Christina Austin, CEO of Pixel Film Studios, "This title pack is a great place to start for users wanting to create a comic book style throughout their film."
Whether editing a video a trip to Comic Con or making a comic-themed music video, ProSticker is a great way for users to add a graphic novel element to their video in Final Cut Pro X. With over 50 chat bubbles, shapes, and text boxes, editors can give their video that super hero look in the few clicks of a mouse.
Users can also add a sticker animation to their text boxes and bubbles. By simply checking the sticker peel animation box in FCPX Inspector, editors can make their text peel in or out of the scene like a real sticker. Then, they can customize the angle and direction of the peel animation.
With ProSticker, editors can position their text, chat bubbles and shapes precisely where they need them with on-screen controls in Final Cut Pro X. Users can even rotate their stickers without ever leaving the viewer window.
ProSticker was designed to help editors customize and create sticker effects for their scene or titles without ever leaving Final Cut Pro X. They can quickly and easily change the position, animation, opacity, scale and color parameters to build their very own comic book sticker in FCPX.
Established in 2006, Aliso Viejo, California-based Pixel Film Studios is an innovative developer of visual effects tools for the post-production and broadcast community. Their products are integrated with popular non-linear editing and compositing products from Apple FCPX. All Apple, the Apple logo, and Macintosh are registered trademarks of Apple Inc. in the U.S. and/or other countries. All other trademarks and trade names are the property of their respective owners.