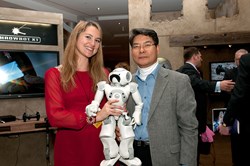 Minneapolis, Minnesota (PRWEB) November 05, 2013
Scientists, students, industry leaders, legal experts and academic luminaries won't be the only ones wandering the Expo floor at the third annual Robotics Alley and Expo, which will take place Nov. 12-13 at St. Paul's RiverCentre.
The robots will be there as well. Heather Knight and Dr. Chul Hue Park with Data, Heather's comedian robot.
The event, which is open to the public, will provide an opportunity to interact with robots such as Baxter, a manufacturing robot from Rethink Robotics that exhibits behavior-based 'common sense' and is capable of sensing and adapting to its task and its environment.
Attendees also will be able to snuggle up to Paro, a therapeutic baby seal from Japan. Paro responds to human touch and voices, and adapts its behavior accordingly, providing company and comfort to Alzheimer's patients in health care facilities across the world.
Joining the robot crew will be Data, a Nao humanoid with a great sense of humor according to its creator, keynote speaker Heather Knight, who has programmed it to be a stand-up comedian as well as a friendly interface between humans and machines.
There also will be demonstrations of ReconRobotics' Throwbot®, and Recon Scout®, which are widely deployed by the U.S. military and international friendly forces, and by nearly 700 law enforcement agencies worldwide.
For more information and to register, visit http://www.roboticsalley.org.
About Robotics Alley
Robotics Alley™ (http://www.roboticsalley.org) is an initiative to spur public-private partnerships in the business, research and development of world-leading robotics and automation systems. These leading companies, organizations, universities and individuals are involved in some of the world's most innovative and promising robotics projects.