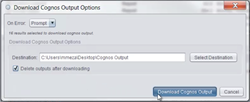 MotioPI's roadmap has always been driven by the Cognos user community.
Dallas, Texas (PRWEB) December 12, 2013
Motio today announced the latest release of MotioPI, the popular power tool for IBM Cognos administrators, modelers and report authors. The new 2.9 release of MotioPI offers several new features aimed at empowering Cognos Business Intelligence software users to work smarter and more efficiently, as well as an improved installation and update process.
"MotioPI's roadmap has always been driven by the Cognos user community," said Matt Thibeau, MotioPI Product Manager. "With each new release of MotioPI, we strive to improve the efficiency of Cognos users by enabling them to perform frequent Cognos tasks in less time."
A key highlight of the 2.9 release is the addition of new "action buttons," which are spread throughout each of the MotioPI feature panels. These action buttons provide new bulk management capabilities for Cognos BI environments.
The bulk move and bulk delete actions of MotioPI 2.9 can help keep a Cognos environment clean and healthy by automatically finding and updating all objects which reference the deleted/moved items (views, shortcuts, jobs, etc). Furthermore, MotioPI 2.9 bulk moves and bulk deletes can optionally open a "Search and Replace Panel" to find and update any drill-through references that would be impacted by the moved/deleted items.
The 2.9 release also includes new action buttons for finding and archiving Cognos report outputs. Steady growth in historical report outputs can often cause the Content Store to grow to an unmanageable size. MotioPI 2.9 now includes a "download and delete" action button that Cognos administrators can use to offload mass amounts of historical outputs from the Content Store to the local filesystem (for archival).
Managing Cognos user schedules is typically a very manual process in that only one schedule at a time for a single Cognos user can be maintained. The 2.9 release now allows bulk management of schedules for Cognos users through the new action buttons found in the "Schedule Panel." These actions allow you to quickly pause, disable or resume hundreds of schedules with the click of a button.
When employees change roles within an organization or leave a company, re-assignment of their Cognos content can often be a tedious task for administrators. Another new action button in MotioPI 2.9 allows Cognos administrators to make bulk ownership changes to Cognos content.
Other features in the 2.9 release include a new unified installer, improved auto-update capabilities, and a bundled JRE.
"With the 2.9 release, we've taken steps to ensure MotioPI users can get up and running as quickly as possible with zero headaches," said Thibeau. "We're now bundling a consistent version of the JRE with the MotioPI installation, so our end-users don't have to bother with trying to install and configure the appropriate version of Java."
About Motio, Inc.
The product teams at Motio™ start with a passion for the art of software development and expand upon this fundamental principle by asking, "How can we make Cognos better?" From this philosophy, Motio produces award-winning software focused on optimizing the quality, scalability, and security of IBM Cognos. Motio software is used by customers around the globe in over 60 countries. Motio, an IBM Premier Business Partner, empowers Cognos teams by removing burdens and enabling them to focus on the essential complexity of Business Intelligence.
For more information about Motio, visit http://www.motio.com.