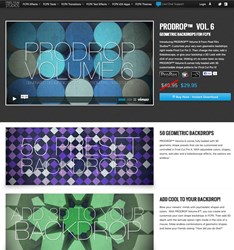 ProDrop Volume 6 is a great FCPX plugin for creating fun and vintage text backdrops.
Laguna Beach, California (PRWEB) December 06, 2013
Final Cut Pro X plugin and effects manufacturer, Pixel Film Studios, announced the release of ProDrop Volume 6, a package of 50 geometric text backdrops for Apple's Final Cut Pro X.
"ProDrop Volume 6 is a great FCPX plugin for creating fun and vintage text backdrops," said Christina Austin, CEO of Pixel Film Studios. "With the kaleidoscope effect you can even give your backdrop a stained-glass look."
ProDrop Volume 6 includes 50 geometric shape presets that can be customized and controlled in Final Cut Pro X. With adjustable colors, shapes, zooms, extrudes and a kaleidoscope effects, the backdrop can be stylized to fit many film styles.
With ProDrop Volume 6, editors can create and customize the shape backdrops in FCPX. Then, they can add 3D depth with the extrude option in the click of a mouse. They can also control the texture of the lens dirt all inside FCPX.
ProDrop volume 6 comes fully loaded with 10 customizable core shapes: circle, square, star, octagon, pentagon, pill rectangle, heart, diamond, and triangle. Each shape can be manipulated to create endless geometric looks in FCPX.
ProDrop Volume 6 was designed to work seamlessly with Final Cut Pro X. Editors simply have to drag-and-drop the desired shape preset into the timeline. Then, they can customize the scale, lens dirt, color combinations, and flicker. Finally, users can finish off their look by adding a kaleidoscope or extrude to the shapes.
Established in 2006, Aliso Viejo, California-based Pixel Film Studios is an innovative developer of visual effects tools for the post-production and broadcast community. Their products are integrated with popular non-linear editing and compositing products from Apple FCPX. All Apple, the Apple logo, and Macintosh are registered trademarks of Apple Inc. in the U.S. and/or other countries. All other trademarks and trade names are the property of their respective owners.