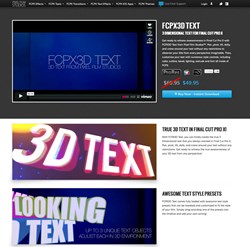 We really wanted to push the boundaries of Final Cut Pro X with the FCPX3D Text plugin.
Laguna Beach, California (PRWEB) December 04, 2013
Final Cut Pro X plugin developers and post-production film house, Pixel Film Studios, provides FCPX users with true 3 dimensional text for Final Cut Pro X.
"We really wanted to push the boundaries of Final Cut Pro X with the FCPX3D Text plugin," said Christina Austin, CEO of Pixel Film Studios, "You can now create looks that were never possible before in the software."
With FCPX3D Text, users can finally create the true 3 dimensional text that they have always wanted in Final Cut Pro X. Editors can pan, pivot, tilt, dolly, and crane around the text without any restrictions. Users can get ready to witness the true awesomeness of their very own 3D text from any perspective.
FCPX3D Text comes fully loaded with awesome text style presets that can be tweaked and customized to fit the style of any film. Editors can simply drag-and-drop one of the presets into the timeline and add their own writing.
Users that cannot find a preset that meets their needs, can use the numerous style controls to make endless 3D text looks directly inside of Final Cut Pro X. With easy-to-use buttons and sliders in the FCPX Inspector, editors can quickly change the color, outline, bevel, extrude, font and light color to create the look they want.
Final Cut Pro X users can revel in the true awesomeness of 3D text by moving the built-in light sources around and seeing the highlights and shadows react in a real-time. Then they can change the color and quality of the light to complete their look.
Filmmakers can take command of their FCPX3D Text with intuitive on-screen controls. They can quickly and easily position their text with a simple click and drag in the Viewer window.
FCPX3D Text was designed by the team at Pixel Film Studios to create flawless, true 3D text inside Final Cut Pro X without melting computers with renders. With easy-to-use sliders and drop down menus in the FCPX Inspector, editors can quickly and effortlessly change the Camera Angle, Lens Type, and Shine of the text along with many parameters.
Established in 2006, Aliso Viejo, California-based Pixel Film Studios is an innovative developer of visual effects tools for the post-production and broadcast community. Their products are integrated with popular non-linear editing and compositing products from Apple FCPX. All Apple, the Apple logo, and Macintosh are registered trademarks of Apple Inc. in the U.S. and/or other countries. All other trademarks and trade names are the property of their respective owners.