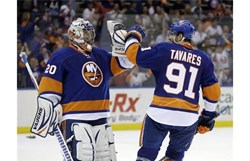 (PRWEB) October 02, 2013
The 2013-2014 NHL preseason officially began on September 14, 2013, and with no lockout this time. The 16-day preseason is now over and the regular season began yesterday, October 1st.
Regardless of the 2012 lockout that cleared an entire preseason schedule and 34 regular season games, the NHL has the largest ticket increase among all other pro sports leagues. After the lockout, which lasted four months, average ticket prices for a hockey game went up 5.7%, resulting in an average price of $61.01. No other pro league went up nearly that high, making it clear that the lockout had quite the impact on ticket prices. The NBA average ticket went up 3.5%, while the NFL went up 2.5%. Somehow, despite the increase, the league saw an average attendance increase of 1.1% from the previous season. Clearly, NHL fans missed their hockey.
Although the 2013-2014 season is just beginning, it is clear ticket prices are up again. Among the highest of price increases is for the New York Islanders. This season an average ticket is $150.60, while last year's price was $74.20. This average price puts them in the middle of the two other New York teams. The Rangers have a price of $232, while the Devils come in at $130.
Another team that has high rises in ticket prices for this year is the Chicago Blackhawks, last season's Stanley Cup champions. These prices have increased by 57% compared to last year, but it is predicted that fans will still come. This price indicates that the Blackhawks are the second highest priced team in the league, just behind the Toronto Maple Leafs. At the beginning of 2013 an average Chicago ticket cost $199.33, and now one will cost $368.60.
Surprisingly, there are some teams that experienced a decrease in ticket prices. The 2012 Stanley Cup champions the LA Kings had the second largest decrease, just behind the Winnipeg Jets. Kings tickets are down 13% this year, meaning that tickets are now about $126.23.
Despite the increase, Ticket Monster is still the best place on the secondary market to get your 2013-2014 NHL tickets. Ticket Monster offers tickets to every game, and at the best price on the web. On top of inexpensive prices, Ticket Monster's website is fan engaging, so customers are getting the ultimate fan experience, and more than just a ticket. Customers can read the Ticket Monster blog, look at easy read schedules, or watch highlight videos right on the site. Visit Ticketmonster.com today for your NHL hockey tickets.