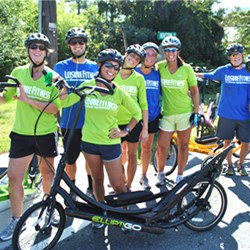 The Leisure Fitness team of ElliptiGO riders is excited to support the cause and help to create a world free of MS.
Rehoboth Beach, DE (PRWEB) August 31, 2013
Leisure Fitness is proudly supporting the Bike MS: Bike to the Bay on September 21st, 2013 to benefit the National Multiple Sclerosis Society. The team will be taking the road at 1pm at Uncle Ted's Rest Stop in Milton, DE and riding the 17 miles to the finish line.
Leisure Fitness is reaching out to ElliptiGO Outdoor Elliptical Bike owners to join the team and ride together. The team will meet at noon, an hour before the race, at Uncle Tom's Rest Stop to take pictures, discuss their own ElliptiGO adventures, and prepare for the ride. Each team member will receive an ElliptiGO shirt, and be invited to join the party at the Leisure Fitness tent at the team village.
Paul Bastianelli, Chief Executive Officer and the captain of the Leisure Fitness and the ElliptiGOs Team commented, "The ride is a great way to raise awareness and fundraise for the National Multiple Sclerosis Society, our team of ElliptiGO riders is very excited to support the cause and take part in the event."
The outdoor elliptical is a new category in the fitness industry and is becoming more popular every day. The ElliptiGO has the same motion as an indoor elliptical, but can be enjoyed outdoors on the open road with an average cruising speed of 15 MPH.
About Us: Leisure Fitness is a fitness equipment company providing high-quality fitness equipment for your home, office, or corporate setting. In addition to ElliptiGOs, equipment available at Leisure Fitness includes treadmills, elliptical cross trainers, home gyms, rowing machines, free weights, and accessories. Leisure Fitness provides an educated, experienced staff of fitness specialists who are knowledgeable about all the equipment's capabilities and performance specifications and trained to identify a customer's need and fit them with the appropriate fitness product.
Please contact Anne Stephenson with any questions, at 302-224-5062.
Sign Up & Join the Team: Leisure Fitness & the ElliptiGOs at Bike to the Bay 2013