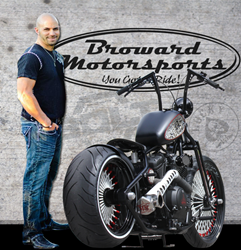 Brilliant, reminds me of the bike mum was so made at dad for riding back in '53 - '55. Byron Bay, NSW
Hollywood, FL (PRWEB) October 04, 2013
When Sam Nehme of Broward Motorsports received an invitation from Yamaha's Star Motorcycle division to compete against some of the top motorcycle customizers in the U.S. in their "10-Bolts – Ten Builders" competition he accepted without hesitation. Sam told me, "I saw it as an excuse to build the custom Bolt I'd dreamed of since the release of the bike." Yamaha's challenge to these ten builders was to take a stock Star Bolt and turn it into their vision of the custom motorcycle they would ride. That was it. No limits, no directions, no rules, just customize the bike the way they see fit and the public will determine the winner by Facebook voting.
Looking at the ten submissions, what becomes immediately clear is that Sam truly had a different vision for his Bolt than the other builders, and one which was vastly more complex to build. Sam comments, "When the Bolt was released, its minimalist styling and lack of chrome made it obvious to me that Yamaha's design team was influenced by the rebellious minimalist-style bikes built by returning WWII American Servicemen in the '40's and '50's. For me, I knew my Bolt would pay homage to the motorcycle style known as a Bobber." Lucky-13 (his name for the bike) was created and submitted for voting by Broward Motorsports, and epitomizes this revered and thriving sub-culture of motorcyclists.
Broward Motorsports' entry is the most original and authentic of all bikes in this competition, and one of the most complex and difficult to build. The finished bike's details and craftsmanship are unparalleled; in a word, this bike is simply exceptional. Viewing Lucky-13 for the first time, you might think, "Simple; just a frame, fuel tank, wheels, engine and handlebars... what more do you need?" Then you look more closely and you see:

The flat-black frame is simple, elegant and smooth, i.e no visible welds… beautiful
Rear swingarm and shock are removed and the rear of the frame is converted to a rigid ride
Re-raked frame neck accommodates an old school springer front end with 23" wheel & tire
Stock belt-drive was converted to chain drive with single-sided integrated brake rotor and sprocket
Artistic graphics are inset in the fender and tank paying homage to the icons and images used by the originators of the Bobber style motorcycles
Artfully hand-tooled leather springer seat with custom made hydraulic shock to smooth the ride
23" front & 18" rear wheels w/ thick white spoke, red tips & smoky graphics on the rims
Intricate "Bolt" milled accents seamlessly incorporated at the rear axle, oil filler, sprocket cover
Wiring, switches and battery are virtually invisible
Words cannot do justice to this build; it deserves and must be seen in order to truly appreciate the commitment and vision of Sam and the Broward Motorsports team.
Every vote matters in this competition, and Lucky-13 is in a neck & neck race for first place. Please take a look at the gallery of photos and video of Lucky 13 and, if you like it as much as I do, then place your vote - it takes less than 10 seconds.
Contact:
John Vaughan-Chaldy
(760)-494-0294
So Cal, USA