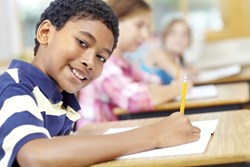 Whether your child has yet to enter Kindergarten or is ready to enter high school, Bright Kids Chicago has a program for everyone
Chicago,IL (PRWEB) September 11, 2013
Bright Kids Chicago offers test preparation and subject tutoring programs that are relevant to a broad spectrum of learners. With a scientific, results-oriented approach to tutoring, Bright Kids delivers results on standardized tests and in the classroom. Whether your child has yet to enter Kindergarten or is ready to enter high school, Bright Kids Chicago has a program for everyone.
For students who are looking to brush up on valuable knowledge or strengthen skills, which are often forgotten over the course of the summer, Bright Kids Chicago will be hosting its popular Reading/Writing/Math Enrichment class. Classes will be held once a week for 90 minutes, and will be structured to focus on pertinent reading, writing, and math skills using Common Core-aligned curriculum and materials. This class includes a diagnostic that will help the instructors create a curriculum for each student based on their current abilities. Classes start week of October 14th on Thursdays 4:00-5:30pm for 3rd – 5th grade students and on Wednesdays 4:00-5:30pm for 6th – 8th grade students.
Studies show that a student develops about one third of their intellectual skills by age six, making it essential to expose young children to academic enrichment. The Bright Kids Fall Preschool Alternative program does exactly that, helps children build core skills at a young age. Classes designed for children aged 2.5-4 years, combine play-based learning with rigorous instruction, ensuring that your child has the tools they need to be successful when Kindergarten starts as well as to build a foundation to perform well on standardized tests like the Selective Enrollment Elementary Schools exams. Classes will be held at Bright Kids' office in Lincoln Park all through fall from September 24th – December 12th.
New Trier High School is a prestigious high school in Chicago. The admissions process is rigorous, and accepted students are expected to perform exponentially better than peers in their class. The New Trier HS CTP-4 preparation program at Bright Kids, provides your child with the academic enrichment necessary to reach this level. Bright Kids is aware of the material covered on this exam and pays especial attention to developing students' testing strategies and writing abilities. Starting September 28th, the New Trier HS CTP-4 class will be conducted every Saturday 11:00am – 12:15pm
Focusing on the essential test skills and the appropriate material to prepare for the International Gifted Programs and Academic Center admissions, the Selective Enrollment Middle School Class will help students prepare for the rigorous curriculum and exams while sharpening their core skills. Classes will be conducted in the Bright Kids Chicago office starting October 14th on Tuesdays 4:00 – 5:15pm for 6th – 7th Grade entry and on Fridays 4:00 – 5:15pm for 8th Grade entry.
The Selective enrollment High School Class is the perfect way to prepare for the upcoming SEHS exam. As entrance into these elite schools for 9th Grade students is becomes increasingly difficult, preparation is becoming essential to earning a top score. The course will focus on content of the test as well as valuable test-taking strategies, which are imperative for a student to know come test day. The class includes a diagnostic so that instructors can cater to each individual student as well as written session reports for parents so that they may be able to track the student's progress throughout the class. This Fall Bright Kids offers 2 batches for the class: one starting early fall on September 10th 2013 held every Tuesday from 4:30 – 6:00pm, and the other late fall starting October 17th 2013 held every Tuesday from 4:30 – 6:00pm
The 1-on-1 Selective Enrollment Bootcamp and 1-on-1 tutoring packages provide one-on-one focused test preparation instruction to students and are perfect for students who plan on taking the entry exam for Regional Gifted Centers, Classical Schools, Selective enrollment middle schools and K-8th Grade. All Bright Kids Bootcamps includes one initial diagnostic to analyze the student's strengths and weaknesses followed by multiple tutoring sessions that build on those results. The sessions, analysis, and results are all fully personalized for each student. The Bootcamp sessions are held in the Bright kids office at convenient time slots starting September 21st 2013
For more information on any of Bright Kids' fall programs, email info(at)brightkidschicago(dot)com or call 773-270-9001.