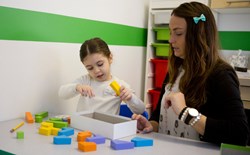 Whether your child is yet to enter Kindergarten or is ready to enter high school, Bright Kids NYC has a program for everyone
New York, NY (PRWEB) September 04, 2013
Bright Kids NYC offers test preparation and subject tutoring programs that are relevant to a broad spectrum of learners. With a scientific, results-oriented approach to tutoring, Bright Kids delivers results on standardized tests and in the classroom. Whether the student has yet to enter Kindergarten or is ready to enter high school, Bright Kids NYC has a program for everyone.
The most popular option at Bright Kids is a 1-on-1 Bootcamp, offering individualized attention at a great price. The G&T 1-on-1 Bootcamp is perfect for students who plan on applying to a Gifted and Talented school for Kindergarten-3rd Grade entry. This program prepares students for the OLSAT® and NNAT®, given together for admissions to G&T programs in January-February 2014. This fall, Bright Kids NYC also offers the ERB 1-on-1 Bootcamp, aimed at students taking the WPPSI-IV or WISC-IV for private elementary school admissions. Finally, the Stanford Binet 1-on-1 Bootcamp is offered for students applying to Hunter College Elementary School. All Bootcamps includes one initial diagnostic to analyze the student's strengths and weaknesses and multiple 45-minute tutoring sessions that build on those results. The sessions, analysis, and results are all fully personalized for each student and visible at any time on our online portal. The Bootcamp tuition also includes relevant test prep books.
Studies show that a student develops about one third of their intellectual skills by age six, making it essential to expose young children to academic enrichment. The Bright Kids Fall Preschool Alternative program does exactly that, helps children build core skills at a young age. Classes designed for children aged 2.5-4 years, combine play-based learning with rigorous instruction, ensuring that your child has the tools they need to be successful when Kindergarten starts. While classes will run all through fall, parents have the option of signing up for a minimum of three weeks' instruction throughout the duration of the fall program. Classes will be held at Bright Kids' office in downtown NYC on Tuesday and Thursday mornings.
Open to students preparing for the Lower or Middle Level Independent School Entrance Exam, the ISEE 1-on-1 tutoring package or class is designed to explain to children the test format, teach fundamental concepts, and introduce key test-taking strategies. Program includes 1 ISEE Diagnostic followed by multiple customized sessions.
Focusing on the grade-appropriate Reading, Writing, and Math NYS Common Core Standards, the ELA/Math Program will help students prepare for the rigorous curriculum and exams while sharpening their skills. These 1:1 sessions are conducted by the top ELA/Math and is open to rising 3rd, 4th, 5th, 6th, and 7th grade students in office or home. Classes are conducted in small or large size groups in Bright Kids offices in NYC.
In New York, many schools in Brooklyn, Queens, and Long Island use the OLSAT Level E for admission into their gifted programs. Additionally, some specialized middle schools, such as NEST+m, may use portions of the OLSAT Level E as part of their admissions exam. Bright Kids is offering 1:1 tutoring and classes to train children be successful with this exam that can be particularly challenging to students as they need to answer 72 questions within a 40 minute period. Our trained teachers and intensive curriculum help children understand patterns and relationships between objects, apply reasoning to the manipulation of abstract objects, and perceive and apply generalizations to solve various verbal and picture problems. The program includes multiple hour-long classes. This class also includes a diagnostic that will help the instructors create a curriculum for each student based on their current abilities.
Hunter College High School is a prestigious public school in Manhattan for gifted students. The admissions process is rigorous, and accepted students are performing about 2-3 years ahead of the peers in their class. The Hunter College High School preparation program at Bright Kids, provides your child with the academic enrichment necessary to reach this level. At Bright Kids, students will start off with a Hunter High School diagnostic, so we can determine the areas that your child should focus tutoring around, each child then receives an individualized curriculum to target areas of improvement. Bright Kids is aware of the material covered on this exam and pays especial attention to developing students' testing strategies and writing abilities.
For more information on any of Bright Kids' fall programs, email info@brightkidsnyc.com or call (917)539 4575