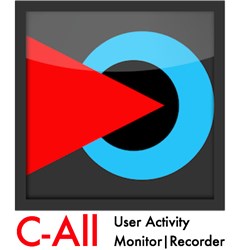 The C-All User Activity Monitor/Recorder works like a video surveillance system for your network, or a DVR on cyber steroids.
New York, NY (PRWEB) September 05, 2013
The digital world has never been more crucial to business success. The key is making digital assets work for the business instead of against it. And to do that, there are some crucial questions that need to be answered, like how data and access are being used, or abused. Unfortunately, staying in control and on top of everyone with access to all of those precious digital assets 24/7 can sometimes feel like a daunting and overwhelming task. Well, it's time to step back and off the ledge. Global Digital Forensics now has the solution – the C-All User Activity Monitor/Recorder.
C-All – The Cyber Control Solution by Global Digital Forensics
Just imagine being able to monitor activity being performed by users on the network in real-time, while also being able to recreate and explore past events in precise video detail, basically like a full video surveillance system for the network. From deciphering inexplicable declines in productivity, to arming legal staff or other company personnel with concrete, indisputable evidence of any illicit or destructive activity, GDF's C-All User Activity Monitor/Recorder is the tool that shifts the balance of power back where it belongs, in the hands of trusted IT security staff, administrators, executives and business owners. So no more mysteries that can't be solved or proven, and no more feeling out of control.
How Does C-All Work?
The C-All User Activity Monitor/Recorder works like a video surveillance system for your network, or a DVR on cyber steroids. The C-All User Activity Monitor/Recorder not only records screen captures and keystrokes from any and all systems with the C-All client installed, it captures remote desktop sessions in full video and allows the playback of the sessions by user or session. Once installed, C-All begins capturing activity and archiving it on a secure server on the network , capturing all sessions and storing them for easy playback.
The C-all User Activity Monitor|Recorder – Harness the Full Power of Video
Get detailed facts about suspected corporate policy violations: The C-All system not only allows for seeing who is or isn't conforming to the rules, but exactly what they did and how, in full video detail. So instead of wading through piles of complex and boring logs, or page after page of mind-numbing text, getting to the answers is as easy as watching a movie.
Take the guesswork out how employees are spending their time at work: C-All lets you see who's been doing what on company time, with company resources.
Customize C-All for maximum effect: Easy to configure triggers can be set to alert security personnel or administrators when specific activities are performed, like launching webmail or copying files to a USB device, and an alert can even be sent by email for real-time monitoring.
Easy searching = exceptional results fast: Search movies by date and time, triggers, sessions, users or activities. You can even use the keylogger feature to zero in on a particular chat session or activity by keyword, all in a simple search interface. C-All makes finding evidence so fast and easy, even unskilled users have no problem performing searches.
Reconstruct the details of an incident and the players involved: With the C-All system, sessions and events can be recreated in full detail. See exactly what was done, how it was done, and who was involved. There is no such thing as a grey area when you have the entire chain of events documented in video form.
Uncover the misuse of confidential or sensitive data and intellectual property: The internal workings of a company should stay internal. But when someone violates that trust, not only can all the details of the event be uncovered, the culprit(s) can be identified as well.
Protect intellectual property and other critical data from leakage: Intellectual Property is at the core of keeping a business vibrant and successful today, and every advantage that can be mustered must be developed and protected.
Identify and resolve network problems: Malicious insider threats are one thing, but innocent mistakes do happen as well, and they can be just as costly. Admins will be able to see exactly how situations unfold and can plainly see what was done wrong and will have the information they need to devise a solution.
Some More C-All Advantages
With so many configuration possibilities available, the C-All System is designed to be flexible enough to suit very unique needs.
Record all sessions regardless of network protocol or the client application: Solution works on any Windows-based operating system, both server and workstation based, to make things easy.
Almost all types of remote access are supported: Control systems remotely with Citrix, Terminal Server, VNC, NetOP, PC-Anywhere, VMware, Re-mote Desktop, LogMeIn, and other configurations.
Nothing and no one can hide: While many user monitoring systems can be evaded, or don't cover all the scopes and types of user activity, C-All's screen recording system is universal, and because every user action performed is inevitably displayed on the screen, it will be recorded.
Simple, integrated installation: C-All doesn't require buying and installing additional "support" software. It includes everything needed for full functionality. The flexible architecture (the server, client and viewer) can be independently installed on one or more machines, in any combination.
Active Directory integration: Another factor making C-All's integration with existing infrastructure simple, is the integration with the user and access management system of Active Directory.
Export to external formats: When C-All results need to be put into the hands of other professionals, from counsel to vendors, C-All makes it easy with the ability to export the results to external formats everyone can use and collaborate on.
Due to its adaptability and flexibility, there are so many ways to benefit by using the C-All User Activity Monitor/Recorder that it would be impossible to name them all here. But the bottom line is, you will finally have control over your digital assets like never before. Call 1-800-868-8189 today and speak with a GDF specialist for further details about the C-All User Activity Monitor/Recorder and explore the advantages C-All can provide for any unique situation. The consultation is free, but the benefits could prove immeasurable.
*Global Digital Forensics is a recognized leader in the fields of computer forensics, eDiscovery, cyber security and emergency incident response.