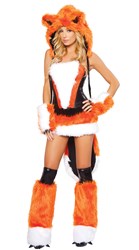 PHOENIX, Ariz. (PRWEB) September 25, 2013
Yandy.com, the leading ecommerce website for women's Halloween costumes and intimate apparel, is proud to announce the launch of new sexy Halloween costumes from popular designer Leg Avenue for 2013. With Halloween season already in full swing, these new costumes add to the over 2,000 choices that customers of Yandy.com have when searching for Halloween costumes. This collection features new and exciting styles that are representative of the latest trends in both Halloween costumes and women's fashion.
Leg Avenue, one of the most established and well respected companies in the Halloween costume vertical, has been offering sexy, stylish and fun choices for women for over a decade. As the creator of some of the most popular styles throughout the years, including the Candy Corn Witch, Honey Bee and SWAT Hottie, this new update from Leg Avenue continues their tradition of offering fashion forward costumes that are both timeless and relevant. From cops, to pirates to schoolgirls to ninjas, Leg Avenue has created new looks for popular segments while maintaining the style and fit that women have come to expect from their costumes year in and year out. Yandy.com is proud to offer these costumes as part of their 2013 Halloween costumes collection, helping customers find the right outfit that will make them feel both sexy and stylish this season.
With the popularity of Halloween continuing to increase year after year, Yandy.com knows that their rabid fanbase of loyal customers wants new and exciting looks that will help them stand apart from other partygoers, all while attracting the most attention. To meet this demand, Yandy.com is excited to offer more costumes from brands like Leg Avenue than any other costume distributor online. These new and exciting Leg Avenue costumes, coupled with the over 2,000 other costumes, makes Yandy.com the best place for both women, groups and couples to find costumes that will make 2013 the best Halloween to date. To shop Yandy.com's collection of Leg Avenue costumes, click here - http://www.yandy.com.
About Yandy.com
E-commerce is on the rise and Yandy.com is one of the largest online retailers of lingerie, sexy Halloween costumes, swimwear and clothing on the web. Founded in 2005, Yandy boasts more than 7,000 products always in stock at easily affordable prices. Yandy ensures that every costumer will receive a safe, secure and private online shopping experience and is backed by COMODO online security and Google Checkout. Yandy is dedicated to customer service and only sells what is in stock which allows for quick, same day shipping. Offering the highest quality products at the most affordable prices in the market, Yandy has become a leader in ecommerce. Yandy works closely with all of the manufacturers they distribute for and hand select all of the items on the Web site to ensure customers have the largest and most diverse collection to choose from. In addition, the customer service team at Yandy is unrivaled. With attentive and helpful operators, should a question or problem arise, the customer service team at Yandy is always willing and able to assist. At Yandy, every customer can Be Sexy.