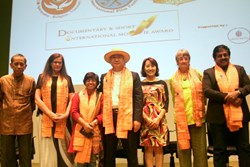 According to Lee 'everyone wants to develop and change, but may not know how. This movie is about how to use your brain well to create meaningful change.'
Sedona, Arizona (PRWEB) December 04, 2013
The inspirational documentary film, 'CHANGE: The LifeParticle Effect', produced by Ilchi Lee and directed by E.J. Lim and Edwin Kim, all residents of Sedona, Arizona, has won several awards at the International Film Festival for Spirituality, Religion and Visionary(IFFSRV), recently held in Jakarta, Indonesia.
Ilchi Lee's Sedona experiences have his inspired his creativity, as demonstrated in more than 30 books and this remarkable film.'CHANGE: The LifeParticle Effect.' The dynamic documentary film premiered earlier this year in Sedona, Arizona with a lively presentation from the New York Times bestselling author, Ilchi Lee. Since that time, the film has received accolades and endorsement from visionaries Rev. Michael Beckwith and Neale Donald Walsch and toured in major cities in the US and around the world.
Lee and the film's directors attended the award ceremony in Jarkarta on November 27th and were pleasantly surprised at the film's positive reception. CHANGE was shown to the Opening Night crowd. The film's empowering message about the relationship between consciousness and matter and each individual's potential to effect change, personally and globally, found a willing and passionate audience. The film later received a host of awards, including the Best Short Documentary, one Gold Award and ten Awards of Excellence.
According to Lee "everyone wants to develop and change, but may not know how. This movie is about how to use your brain well to create meaningful change." He expressed his gratitude for the attention and honors the film received at the festival and especially thanks the festival's founder for creating the opportunity. Stating his intention to "keep moving forward after this film and keep creating change in the world."
This year marks the fifth anniversary for the International Film Festival in Indonesia and the first year for the category devoted to Spirituality, Religion and Visionary. Established by individuals who care about peace and harmony among individuals and honoring spiritual commitments regardless of gender, religion, race or economic status, this festival within the festival sought to promote the creation of inspirational films.
About ChangeYourEnergy.com:
Inspired by his Sedona experiences and the rich tradition of Korean culture, Ilchi Lee was instrumental in creating a film that is generating ripples of positive energy around the world.
The film is hosted on ChangeYourEnergy.com, a wellness lifestyle resource based on energy philosophy and the teachings of Ilchi Lee offering accessible, around the clock lifestyle tips, health and wellness articles, exclusive seminars and personal development coaching.