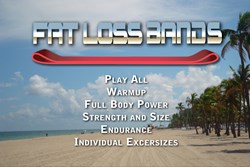 Simply put the most convenient workout system ever created.
Fort Lauderdale, Fl (PRWEB) October 24, 2013
With the rise in obesity rates across the United States and a global epidemic in obesity-related illness, including Type-2 diabetes and cardiovascular ailments, maintaining a healthy fitness routine is critical.
However achieving these goals are often difficult, particularly when required to sustain a routine of healthy living over a course of time and in constant battle with a food culture bombarded with unhealthy options. Eric Andrews, a celebrity fitness trainer, has developed a unique program that addresses both healthy living and weight loss with his Fat Loss Bands body transformation system.
Eric Andrews is dedicated to changing our culture's obesity issues. Andrews has developed a unique and highly successful approach not only directed at weight loss, but a approach that incorporates different medians of exercise, healthy eating and personal mentoring in order to live a healthier lifestyle. Andrews' motto is that by living a healthy lifestyle, physical wellness and appearance improves, and risk for life-threatening diseases like cardiovascular disease, stroke, some cancers, and many other health problems decreases. In conjunction with healthier eating habits, routine exercise and maintaining a normal body mass index (BMI) can extend lifespan approximately 20% by experts in the Human Aging field.
The workout is designed around resistance bands and allows users to workout anywhere they go. Testimonials and reviews from those who have tested the product are available on the website.
For more information about Eric Andrew's exciting new program, please visit https://fatlossbands.com for your promotional offer of entering the program for only $99 and to contact Eric Andrews directly on how to change and ultimately extend your life.