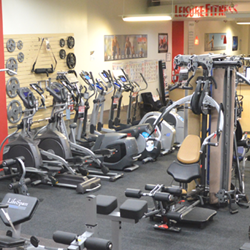 The (Leisure Fitness Fairfield, NJ Showroom) expansion allows our customers to view a full selection of the Life Fitness and Precor product lines.
Fairfield, NJ (PRWEB) December 16, 2013
On November 12th, 2013 Leisure Fitness completed the expansion of the Fairfield, NJ store to become the largest showroom for Life Fitness and Precor Fitness residential and commercial fitness equipment. The Leisure Fitness - Fairfield, NJ store is located at 430 Route 46 East in Fairfield, NJ.
Leisure Fitness offers high-quality fitness equipment to meet your home, office, and corporate needs. Equipment includes ellipticals, treadmills, recumbent and upright bikes, home gyms, rowing machines, free weights, and accessories.
The two thousand square foot expansion of the showroom, making the full showroom close to thirty-five hundred square feet, provides the capacity to show a full selection of top brands including; Precor, Life Fitness, Landice, Inspire Fitness, WaterRower, Stott Pilates, Diamondback, LifeSpan Fitness, Spirit Fitness, ElliptiGO, AbCoaster, Body-Solid and more.
Leisure Fitness operates under the philosophy that to reach a wellness destination people must have education and motivation. Therefore, Leisure Fitness provides a professional, educated staff of fitness experts who are knowledgeable about all of the equipment's capability and performance specifications as well as what equipment is right for any of the countless individual needs that their customers can and will have.
Howard Olinsky, Manager for the Fairfield Store, said, "The (Leisure Fitness Fairfield, NJ Showroom) expansion allows our customers to view a full selection of the Life Fitness and Precor products across all categories. The goal is always to recommend the best product for each specific customer, so providing more options in the store reassures people that they are making the right decision." Howard has over 20 years of industry experience in the New Jersey and New York market.
Leisure Fitness is passionately committed to providing the tools that will help its customers get fit and stay fit. All the products displayed and sold at Leisure Fitness are carefully reviewed to insure that every item is of the highest quality and engineered to deliver results. Once becoming a member of the Leisure Fitness customer family, Leisure Fitness makes every effort to continue to motivate and educate their customers with a variety of services designed to keep people moving towards their fitness goals and beyond.
If you'd like more information about Leisure Fitness please visit LeisureFitness.com, or contact store manager, Howard Olinsky, at (973) 227-5221.