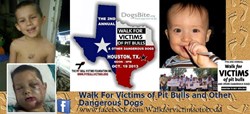 Dangerous dogs kill hundreds of Americans every year and injure 4.7 million more.
Houston, Texas (PRWEB) September 10, 2013
Simmons and Fletcher, P.C. is a sponsor of the 2nd Annual Event for the Victims of Pit Bulls & Other Dangerous Dogs on October 19, 2013 from noon to 9pm at PJ's Softball Park in Spring, Texas. The event aims to increase awareness about the frequency and severity of injuries sustained from dog attacks across Texas and the United States. Paul H. Cannon, a trial attorney for Simmons and Fletcher will be a guest speaker at the event. He will discuss the complexities of Texas dog bite law and the challenges faced by victims of attacks caused by negligent dog owners.
Inadequate Texas Canine Legislation
According to the Center for Disease Control, millions of people are bitten by dogs every year with over half-a-million annually seeking medical care, but the complexities of dog bite laws in Texas often create roadblocks for victims seeking compensation from the negligent dog owner or responsible party. In many countries, states and cities, certain dogs considered dangerous and/or "bully breeds" are illegal and/or regulated. Across the world dangerous dogs are under constant monitoring and regulation, but Texas still largely adheres to the archaic "One Bite Rule" which allows a negligent dog owner a free pass if his/her dog bites someone.
U.S. Dog Attack Statistics
According to the CDC, every 75 seconds someone is bitten by a dog in the United States. Dangerous dogs kill hundreds of Americans every year and injure 4.7 million more. Each state's dog bite laws vary drastically, and sadly children are the most frequent victims of dog bites (often by a trusted family pet).
2013 Dog Bite Victim Event
The 2013 Victims of Pit Bulls and Other Dangerous Dogs event will feature a variety of activities for all ages. From moonwalks and a costume contests to a candlelight vigil for victims of fatal dog attacks. Also joining Cannon will be several other speakers including: Douglas Wolfe, President of The Pit Bull Victims Foundation, Inc; Dr. Khechoyan of Texas Children's Hospital and several parents and relatives of attack victims. While the event promises a day of fun, education, and entertainment, the festivities cannot overshadow the issue the event is promoting or the victims. Anyone who cannot attend the event but wishes to show their support can follow & share the fundraising event page and/or contact the event's host, Maggie Bain, through the Pit Bull Victims Foundation Facebook page for further information.
Dog Bite Injury Advocates
Simmons & Fletcher, P.C. is a personal injury trial law firm based in Houston, Texas representing victims of dog attacks in court for over 25 years. Attorneys of the firm are well versed in the complexities of dog bite lawsuits in Texas and handle these types of cases regularly. Paul H. Cannon of Simmons and Fletcher was recently invited to be a guest speaker at the Strafford Legal Webinar's Dog Bite Victim Representation Webinar. In addition has published several articles about Texas dog bite laws and the lack of adequate legislation that could prevent a large number of devastating and fatal injuries. Simmons and Fletcher, P.C. has experience working with victims of severely injured and disfigured dog attack victims as well as families of fatal mauls. Join them October 19th in support of dog attack victims everywhere.
Contact Information
Paul H. Cannon
Simmons and Fletcher, P.C.
9821 Katy Freeway, Suite 925
Houston, TX 77024
713-932-0777