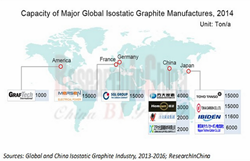 Foreign isostatic graphite is mainly produced by Japanese TOYO TANSO, French Mersen Group and German SGL Group, all of which have production bases in China.
Dallas, TX (PRWEB) July 01, 2014
China has been a hot investment spot for isostatic graphite sector and the most important consumer market of isostatic graphite in the world. In recent years, with the rapid development of Chinese photovoltaic industry, China's isostatic graphite demand is increasing year after year. In 2013, China's demand for isostatic graphite exceeded 25 kt, while output during the same period was merely less than 20 kt, the supply and demand gap being about 5 kt.
At the same time, due to the weak technical capability of domestic Chinese isostatic graphite enterprises and the technical blockage put up by foreign enterprises, the output and quality of isostatic graphite manufactured by Chinese companies have not been improved much. At present, the new Chinese entrants into isostatic graphite sector generally lack of technical reserves and have unreasonable product structure and other problems, and these problems are hard to be addressed in the short term. Therefore, in the next few years, the market supply of high-end large size and fine-structure isostatic graphite in China will remain tight.
Complete report is available @ http://www.chinamarketresearchreports.com/114851.html .
After 2006, the rapid rise of the global PV industry quickly broke the original supply and demand equilibrium of the isostatic graphite market and made the supply become increasingly tight. In this context, isostatic graphite giants in America, Japan, Europe or other countries and regions started investing heavily to expand their production capacity, easing the shortage of market supply. In 2013, with the increased support and investment in PV industry in China, the global isostatic graphite supply and supply gap widened to 1,500 tons.
Foreign isostatic graphite is mainly produced by Japanese TOYO TANSO, French Mersen Group and German SGL Group, all of which have production bases in China.
TOYO TANSO is the world's largest isostatic graphite manufacturer with isostatic graphite plants in Shanghai and Jiaxiang County, Shandong Province. Along with the commissioning of its 4 kt/a isostatic graphite production line in Japan at the end of 2013, its total output of isostatic graphite products had reached 15 kt/a.
Mersen, the former French LCL, is the first foreign company to set up isostatic graphite production base in China. In 2012, the completion of its capacity expansion project in Chongqing made its global isostatic graphite production capacity reach 12 kt/a.
Purchase a copy of this report @ http://www.chinamarketresearchreports.com/contacts/purchase.php?name=114851 .
SGL Group is a multinational carbon product manufacturer from Germany. Currently it has isostatic graphite production bases in Bonn, Germany and Yangquan City, Shanxi Province, China. In July 2010, it announced to invest EUR 75 million to increase its isostatic graphite production capacity from 10 kt/a to 15 kt/a, but the project is still under construction and is expected to be put into operation at the end of 2014.
After the acquisition on Chengdu Carbon Co., Ltd, Fangda Carbon New Material Co., Ltd has become the sole Chinese company boasting mature isostatic graphite production technology. Its 20 kt/a isostatic graphite project officially began construction in 2013, and once completed, Fangda Carbon's isostatic graphite capacity will reach 24 kt/a.
This report covers the following:

Global isostatic graphite supply and demand, competition pattern and isostatic graphite industry development situation in major countries and regions.
Isostatic graphite industry development environment in China, market supply and demand, and forecast for the next three years, competition pattern, import and export, and capacity of top 11 companies.
Downstream and upstream markets of China isostatic graphite industry.
Operations of 22 global and Chinese companies (including Toyo Tanso, Mersen, SGL and Fangda Carbon) and analysis of their isostatic graphite business.
Few Points from Table of Contents
List of Charts
Application of Isostatic Graphite
Isostatic Graphite Industry Chain
Global Isostatic Graphite Output, 2007-2016E
Global Isostatic Graphite Demand, 2007-2016E
Global Demand for Isostatic Graphite by Field, 2013
Isostatic Graphite Output of China, 2006-2016E
Demand for Isostatic Graphite in China, 2006-2016E
Net Import Volume of Isostatic Graphite in China, 2007-2014
New and Cumulative PV Installed Capacity of China, 2009-2016E
Solar Cell Output of China, 2006-2014E
Output Value of Mould Industry in China, 2009-2015E
Demand for Isostatic Graphite for Electrical Discharge Machining in China, 2006-2015E
Revenue and Net Income of GrafTech, 2008-2016E
Revenue and Net Income of Mersen, 2008-2016E
Isostatic Graphite Capacity of Mersen, 2006-2014
Revenue and Net Income of TOYO TANSO, FY2008-FY2014
Development History of Isostatic Graphite Business of TOYO TANSO, 1974-2010
Isostatic Graphite Capacity of TOYO TANSO, 2006-2014
Revenue and Net Income of Tokai Carbon, 2008-2016E
Revenue of Tokai Carbon by Product, 2013
Isostatic Graphite Capacity of Tokai Carbon, 2006-2015E
Browse more reports on Materials & Chemicals Industry @ http://www.chinamarketresearchreports.com/cat/materials-chemicals.html .
About Us:
ChinaMarketResearchReports.com (http://www.chinamarketresearchreports.com/ .) is an online database of market research reports offer in-depth analysis of over 5000 market segments. The library has syndicated reports by leading market research publishers across the globe and also offer customized market research reports for multiple industries.