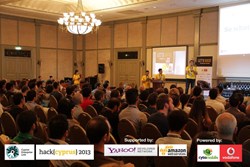 We've exceeded our targets in both attendance and quality.The best part of it all, is when a parent says that they have never seen their kid so excited since Disneyland! That's when you know you're doing something right
Nicosia, Cyprus (PRWEB) September 26, 2013
Hack Cyprus 2013, organised by the Cypriot Enterprise Link, came to a very successful close on Sunday 8th September with the Insights Conference at the Hilton Park in Nicosia. Over the course of five days, people of all sorts of age groups got together to learn, design, code and innovate, proving that Cyprus has the talent and drive needed to support a healthy technology ecosystem. "I'm really happy with how Hack Cyprus 2013 turned out. We've exceeded our targets in both attendance and quality", said Alex Michael, one of the organisers.
The festival kicked off with an opening beach party on Wednesday 4th September in Limassol. Over 50 people got together and discussed ideas and future plans under the moon, setting the mood of what was to follow.
Youth Day, Thursday 5th September 2013
The day was dedicated to the next generation of Cypriot technologists and consisted of two parallel sessions. Teenagers aged 13-16 had the chance to participate in workshops on the basics of programming and robotics kindly sponsored by Engino, whereas teenagers aged 16-19 participated in a programming competition with problems set by the Cyprus Computer Society (CCS). "The best part of it all," says Alex, "is when a parent says that they have never seen their kid so excited since Disneyland! That's when you know you're doing something right."
Hackathon, Friday 6th – Saturday 7th September 2013
Over 80 developers and technologists collaborated in teams for 30 hours straight to produce prototypes of their ideas and were judged by a panel of local experts. SOFTimpact, Cocoon Creations, Cytanet, CCS and CIIM delivered the prizes and Red Bull provided wings!
Insights Conference, Sunday 8th September 2013
The highlight of the festival, Insights Conference was a full-day conference on technology and startups. Famous European startup founders of the likes of Andy Young (Groupspaces, Stripe) and Demetrios Zoppos (onefinestay) along with 10 more esteemed speakers shared their experiences and offered practical advice to 200+ attendees through talks and specialized workshops.
Hack Cyprus 2013 was powered by Cytamobile-Vodafone, the biggest telecoms and technology carrier in Cyprus and the most consistent supporter of innovation and young entrepreneurship. It was also proudly supported by Yahoo! (Developer Network) and Amazon Web Services, as well as a number of other local and international companies with a strong interest in technology, creativity and entrepreneurship.
About Cypriot Enterprise Link (CEL)
The Cypriot Enterprise Link (CEL) is a youth-led organization aimed to connect and support the Cypriot entrepreneurial talent. For more information visit http://projectcel.com.
About Hack Cyprus
Hack Cyprus was created by CEL with a clear ambition in mind — putting Cyprus on the technology map. For more information visit http://hackcyprus.com.