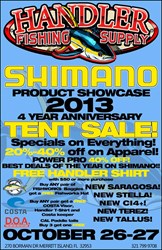 "I was tired of walking into fishing stores with a staff who didn't get it. So I decided to put together a store that didn't suck. That's what we're going for. We will never try to sell you something you don't need." Owner, Adrian Martinez
Merritt Island, FL (PRWEB) October 26, 2013
Handler Fishing Supply, a full service fishing tackle supplier, who recently opened a new store in Merritt Island, FL, celebrates four years of serving Brevard County's recreational inshore and offshore fishing customers with their annual Shimano product showcase event.
This year's event and tent sale will boast the addition of local Bote SUP guides and retailers, All Water Adventures, and nautical décor and custom taxidermist, The Fish Mount Store, and be held on both Saturday and Sunday, October 26th and 27th.
Event guests can expect storewide sales, exciting raffle items, and knowledgeable experts on hand to answer questions, demo products, and offer educational experiences.
A showcase of the new Shimano products by the manufacturer rep will be available to check out with a focus on the different applications of all the new tackle and lures to give attendees that extra edge.
Stand Up Paddle Board (SUP) displays by All Water Adventures will be on location with the Bote SUP board rep available to answer questions while showcasing the different ways to enjoy using paddle boards in this area. A demonstration on ways to set the boards up to fish off of them will be a highlight as this use of the boards is gaining popularity in Brevard's waterways. New and used boards will be available and on sale. In addition, real demos will be offered in nearby Sykes Creek for those interested.
The Fish Mount Store, who specializes in fish taxidermy, will also be setting up a display to show how fish mounts are made and showcase the different aspects of what makes a high quality mount.
Raffling off items such as a new Shimano Stradic 8000FJ, a new GoPro camera, and a gorgeous Wee Sailfish mount for a novel $5 raffle ticket are a draw for any outdoor sport or fishing enthusiast. Every person who attends the event gets their first raffle ticket free. Each additional ticket may be purchased for $5, or 5 tickets for $20.
Handler Fishing Supply owner, Adrian Martinez, and his educated staff are focused on creating new happy customers and maintaining their loyal ones through events such as these.
Sales and specials on everything throughout the store include brand names such as Costa Del Mar, Shimano, Penn, Reef, Hooked Carpe Diem, Fish Skinz, D.O.A Lures, Von Zipper, Smith Optics, Buffs, Aftco, Fishworks, Power Pro, Seaguar, Crowder Rods, Star Rods, Fathom Lures, and many more. In-stock apparel sales from 20%-40% off retail pricing with a free Handler shirt with a $50 or more purchase.
Those looking for quality sunglasses can choose from the over 250 pairs of Coast Del Mar currently in stock. Handler Fishing Supply carries almost every Costa frame and many lens/frame combinations not found at other retailers.
Don't miss this anniversary sale, event, and raffle. Opportunities to check out and get great deals on the newest and hottest in fishing rods, reels, lures, SUP boards, and unique nautical décor are here. Come on out Saturday, October 26 and Sunday, October 27 to Handler Fishing Supply and Outfitters at 270 Borman Drive, Merritt island, FL 32953.
*************************
About Handler Fishing Supply: A full service fishing tackle supplier in Merritt Island. Specializing in saltwater fishing supplies for both offshore and inshore fishing, Handler touts an excellent full-service repair shop and an educated staff along with a full selection of bait, tackle, apparel, rods and reels. Since 2006, Owner Adrian Martinez has been speaking and teaching at fishing seminars along the space coast. Handler Fishing Supply is committed to helping people have the most enjoyable fishing experiences possible.
Handler Fishing Supply
270 Borman Dr
Merritt Island, FL 32953
321 799 9708
http://www.handlerfishingsupply.com
About The Fish Mount Store: Selling fish mounts, fish replicas, unique nautical gifts and nautical décor, they boast a full service taxidermy facility and speak fluent fishing. Preparing the best hand -crafted and painted replicas in the industry right in Merritt Island since 2005, owner Ken Laudadio offers the best selection and customer service. The Fish Mount Store replicas are works of art. Visit the factory and display gallery located in the same location as Handler Fishing Supply.
The Fish Mount Store
270 Borman Drive
Merritt Island, FL 32953
Phone: 321 525 1167
http://www.fishmountstore.com
About All Water Adventures: Offering private guided fishing and adventure excursions in the Merritt Island area for groups of any size and budget, All Water Adventures is sure to create the unique experience you desire. Selling SUP (stand up paddle) boards and teaching technique prior to guided trips, they have the experience to help determine the proper board and excursion for you and your group. Check out their website to get a better idea of all they have to offer.
All Water Adventures
Cori Redwine, Owner
321 222 7511
http://www.allwateradventures.com