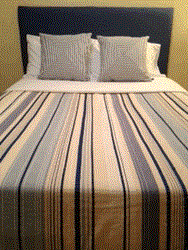 Conquer Clutter, Conquer Life
New York, NY (PRWEB) November 08, 2013
First Tier Organizing announces its new service, Holiday Cash with Airbnb, just in time for the holidays. The new service focuses on turning any unused unit into an accommodating guest room that can be listed on Airbnb.com for travelers looking for alternatives to hotels. First Tier Organizing will clear out, organize, and decorate any room or apartment to prepare it for holiday cash.
Most New York City hotel rooms go from $200-$1000 a night during the busiest time of the year, pushing many travelers to seek for inexpensive ways of staying in New York. Airbnb provides travelers with listings of available places to stay for reasonable prices. At First Tier Organizing, customers are offered an opportunity to make extra cash through Airbnb by turning an unused room into a guestroom for visitors.
Prices begin at $100, and include cleaning, organizing, decorating, and listing the room or apartment on Airbnb.com. For more information on First Tier Organizing or Holiday Cash with Airbnb, please contact Mark Mineo at 845-893-4310.