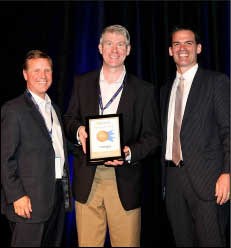 Sandy, UT (PRWEB) October 10, 2013
Telarus Inc., the premier telecom service distributor and patent holder of real-time carrier quotes, today announced that it has entered into a new agreement with Integra™, one of the largest facilities-based providers of communication and networking services in the western United States. The new agreement expands the relationship between Telarus and Integra to reflect the changes and growth that both companies have experienced since the date of their original agreement in June 2011.
"We are pleased to continue our strong relationship with Telarus," commented Tom Weaver, vice president, channel sales at Integra. "With more than two years of dramatic growth since we first partnered together, the time is right to put a new agreement in place that builds on our mutual success and supports Integra's objectives for long-term growth of our indirect channel."
During the past 24 months Integra has worked closely with the supplier management team at Telarus to bring all of Integra's growing portfolio of products, including the company's recently announced Near Net building list, into Telarus' patented GeoQuote system used by over 2,000 independent sales partners nationwide.
"Integra has always been a favorite of our sales partners," added Adam Edwards, president of Telarus, Inc. "We strive to add value to the equation with our automated pricing tools, 4-tier personalized support, and detailed fiber maps which help our partners find where Integra is a good fit for their customers. We are thrilled with how well our relationship has gone with Integra and are equally bullish on our future together under the terms of our new contract."
Since signing the original agreement in June 2011, Telarus has been one of Integra's most consistent top producers, with a focus on fiber-based, carrier-grade networking, communications and technology solutions. Integra, for its part, was voted by the Telarus partner community as the number one overall supplier in 2012.
"Without the superior support our partners receive from Integra's local channel managers, we wouldn't be where we are today," added Robert Butler, VP of Sales for Telarus, Inc. "The added value of having a local resource in each market Integra serves has been key to developing personal relationships with our partners as well as their clients. Our sales numbers are a consistent validation of that strategy."
About Integra
Integra™ is one of the largest facilities-based providers of communication and networking services in the western United States. We connect businesses of all sizes with advanced networking, communications and technology solutions in 35 metropolitan markets. Integra owns and operates an enterprise-class network consisting of a 5,000-mile long-haul fiber-optic network, 3,000 miles of metropolitan fiber and a nationwide IP/MPLS network. Our fiber network connects directly to more than 2,300 enterprise buildings and data centers. Through our expansive Ethernet-over-copper footprint, we can deliver high-bandwidth services to more than 400,000 businesses. At Integra, we understand our customers need reliable, secure and flexible solutions delivered with unmatched expertise and quality of service. For more information, visit integratelecom.com.
About Telarus
Telarus, Inc., a value added distributor that holds contracts with the world's leading commercial telecommunication carriers, makes it easier and more profitable for solution providers, VARs, and MSPs to sell and source voice and data WAN solutions. Our patented GeoQuote platform combines real-time carrier pricing with advanced research features and branded proposals. Telarus' experienced Sales staff is strategically focused on enterprise ethernet WAN and high-capacity bandwidth solutions, making it easier to find the best offer, every time. For its part, Telarus has been named the top Master Agency by the members of the Telecom Association in each of the past three years, the first and only company in the carrier channel to accomplish this feat. Whether you are a top producer or a voice-and-data expert just starting out on your own, there is a place for you in the Telarus community. For more information on the Telarus partner program, please visit telarus.com or call the new partner hotline at 877-346-3232.