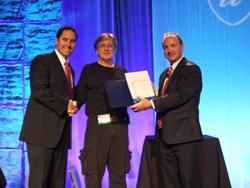 The Grand Prize Winner will have an annual Equity Trust IRA fee waived for his or her lifetime.
Cleveland, OH (PRWEB) October 28, 2013
For a third straight year, Equity Trust Company is seeking the most impressive stories of self-directed investments among its clients.
The Self-Directed IRA Custodian will award one client a free self-directed IRA for his or her lifetime in the 2013 Self-Directed Investor of the Year Contest.
Entries are judged on a number of factors, including the return on investment and the creativity involved in the investment. Self-directed IRAs allow investors to use their retirement accounts to invest in a range of options, including real estate, tax liens and notes. Many Equity Trust clients have maximized the account's flexibility, finding and making successful investments of all types. For example, the winner of the 2012 Self-Directed Investor of the Year contest invested in a FedEx delivery route, in addition to executing another creative investment that involved combining accounts to produce the necessary funding for a deal.
Equity Trust will choose One (1) Grand Prize Winner and Four (4) Runners-Up in the contest. The Grand Prize Winner will have an annual Equity Trust IRA fee waived for his or her lifetime. The winner and finalists will be special guests at the 2014 Equity University Networking Conference, an annual education and networking event that draws approximately 500 investors.
Entrants must be Equity Trust clients. Registration ends December 31, 2013. Winners will be announced in early 2014.
For more details or to register for the contest, visit http://www.trustetc.com/contest.
About Equity Trust Company
Equity Trust Company, with its corporate headquarters in Greater Cleveland, Ohio and operations in Sioux Falls, South Dakota, is at the forefront of the self-directed retirement plan industry. The Company specializes in the custody of alternative assets in self-directed IRAs, Coverdell Education Accounts, Health Savings Accounts and qualified business retirement plans. Along with its affiliates, Equity Trust Company provides services to more than 130,000 individuals and businesses nationwide with approximately $12 billion in assets under custody. Since 1974, the Company and its affiliates have helped investors make tax-free profits through education, innovation, and a commitment to understanding individual needs. Visit TrustETC.com for more information.