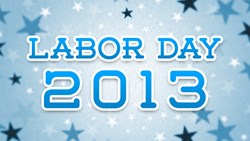 Chicago, IL (PRWEB) August 29, 2013
Though originally envisioned as a day to support working Americans, the holiday of Labor Day has become a day of leisure, and also of retail sales. The mattress business continues to herald Labor Day as one of the top retail days of the year, and as such many retailers offer some of the best deals of the year to draw shoppers. The Sleepy Shopper, a bed blog, took a look at this year's national Labor Day mattress sales to see what was trending.
In the article, "2013 Labor Day Mattress Sales: What to Expect", the blog discusses the trend of labor day mattress sales, the top five trends in sales for 2013, and offers some useful tips for prospective bed shoppers. The blog discusses primarily national retail stores and online retailers that ship nationally, and mentions that most sales start by Friday, or may have already began, and go through Labor Day Monday or later.
Five of the most popular promotions identified by The Sleepy Shopper in Labor Day mattress sales this year include free foundations or boxsprings, free pillows, big percentage markdowns, online coupons and deals, and adjustable bed discounts. The blog explains each trend and mentions retailers offering the specials, including promotions from Sears, Macy's Mattress Firm, Tempurpedic, Amerisleep, Select Comfort, Serta, Astrabeds, and several more.
Following the discussion of what deals shoppers can expect to find, the blog looks at whether or not the deals are worth splurging on. The Sleepy Shopper mentions that, as one of the top sales days, retailers do appear to be offering some of the best sales of the year. For those who need beds now, the article does not recommend holding out if they come across a good fit, as savings likely will not be significantly higher.
However, the article does caution readers not to get sold by advertisements of huge mattress discounts, explaining that these are often calculated based on highly inflated suggested retail prices rather than actual selling prices, or may be on promotional models that differ from other beds in a brand's line. The Sleepy Shopper also suggests that rather than settle for a sale model or compromise comfort to save, that customers research and shop for beds prior to sales and then look for deals on the mattress they actually want. The website provides several guides and brand comparisons as well for those seeking information on beds.
TheSleepyShopper.com offers insights and information for consumers, focusing exclusively on mattresses, pillows, bedding and sleep products. Utilizing an accessible, responsive blog format, the website aims to help educate consumers about their options and on making better buying decisions. From industry research, to product reviews, and general guides, the blog is a must-read for anyone in the market for a new mattress.