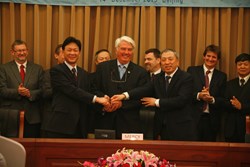 Our goal with this second Mercy Ship is to more than double the hope and healing through life-changing surgeries provided to those with little access to specialized healthcare. - Don Stephens, President/Founder of Mercy Ships
Beijing, China (PRWEB) December 19, 2013
Mercy Ships has announced that it has reached an agreement with Asian and European shipbuilding firms to purpose-build a new 36,600-GRT hospital ship for Mercy Ships. Contracts were signed between Mr. Dong Qiang, VP of China Shipbuilding Industry Corporation (CSIC), and Donald K. Stephens, President/ Founder of Mercy Ships, together with Jim Paterson, Senior VP of Mercy Ships Marine Operations.
The vessel will be built at the group's Tianjin Xingang Shipyard where the shipyard's Chairman, Mr. Gao Xuehu, and President, Mr. Hu Xiang, expressed excitement to be working on this unique project.
This project will make this vessel the world's largest civilian hospital ship, and delivery is being planned for July 2017," stated Mr. Gao Xuehu, Chairman of Tianjin Xingang Shipbuilding Heavy Industry, Ltd.
"We are thrilled to formally secure this important milestone for a project we have worked on quietly for quite some time," said Stephens. "Our goal with this second Mercy Ship is to more than double the hope and healing through life-changing surgeries provided to those with little access to specialized healthcare and to increase the partnership of training and educational support of health professionals within the developing nations our ships will continue to serve."
This agreement comes on the heels of the Mercy Ships story, recently highlighted by CBS on "60 Minutes" (http://www.cbsnews.com/videos/africa-mercy-hospital-of-hope-50141230/).
The 174-meter hospital ship will be designed by the Finnish firm Deltamarin. Stena RoRo will manage the actual project construction under the leadership of Per Westling, Managing Director.
The 157-year-old French ship brokerage company Barry Rogliano Salles (BRS) under the leadership of its Geneva (Switzerland) office Managing Director, Gilbert Walter, negotiated the successful contract and sale.
CSIC is one of China's largest shipbuilding and ship repair groups and operates directly under the China state government with authorisation for investment and capital management. The group has a total asset base of USD 27.54 billion and a workforce of 140,000. The group's 28 R&D institutes employ more than 30,000 engineers, has eight state-level laboratory centers, seven enterprise technology centers and 150 large-scale laboratories.
The new Mercy Ship will be classed by Lloyd's Register and flagged by Malta.
--Ends---
About CSIC:
Established in 1999, China Shipbuilding Industry Corporation (CSIC) is a major state-owned enterprise group and is one of China's largest shipbuilding and ship repairing groups. It has 46 industrial subsidiaries and 28 R&D institutes. Currently, the group has 7 shipyards with an annual new-building capacity of 5 million dwt. Its longstanding experience and comprehensive range of skills has resulted in the group being able to build all kinds of high-quality merchant and naval ships. http://www.csic.com.cn.
About Deltamarin:
Deltamarin Group provides services for shipping, shipbuilding, naval, marine and offshore industry worldwide. The services cover the entire field of engineering from feasibility studies through concept development, FEED and basic design up to complete engineering and contracting packages, including site supervision. Deltamarin employs around 400 designers in its own and associated companies. Offices are located in Western Europe, Brazil, China and Malaysia. Deltamarin is a subsidiary to AVIC International Maritime Holdings Limited. http://www.deltamarin.com.
About Stena RoRo:
Stena RoRo AB designs and develops roll on/roll off and RoPax vessels, passenger vessels, and ferries. The company offers commercial vessels for bareboat, time, and voyage charters; and commercial management services. It serves operators and ship owners in Sweden and internationally. The company was founded in 1976 and is based in Gothenburg, Sweden. Stena RoRo AB operates as a subsidiary of Stena. http://www.stenaroro.com.
About Barry Rogliano Salles (BRS):
BRS was founded in 1856 and is one of the largest international Shipbroker firms with more than 200 brokers, active world-wide in all maritime segments. In its role as a broker, BRS can, on behalf of its clients, negotiate any shipping transaction and associated contracts: new-building contracts, second-hand sale and purchase transactions, charter parties or contracts of affreightment over any time span for all types of ships and floating vessels. The BRS head office is situated in Paris. http://www.brs-paris.com.
About Mercy Ships:
Mercy Ships uses hospital ships to deliver free, world-class healthcare services, capacity building and sustainable development to those without access in the developing world. Founded in 1978 by Don and Deyon Stephens, Mercy Ships has worked in more than 70 countries providing services valued at more than $1 billion, impacting more than 2.42 million direct beneficiaries. Each year Mercy Ships engages more than 1,600 volunteers from more than 45 nations. Professionals including surgeons, dentists, nurses, healthcare trainers, teachers, cooks, seamen, engineers, and agriculturalists donate their time and skills to the effort. Mercy Ships seeks to transform individuals and serve nations one at a time. The charity has offices in 16 nations. For more information click on http://www.mercyships.org.
Press and Media Contact:
Diane Rickard,
International Media Relations
Mercy Ships
US.Media(at)mercyships(dot)org
http://www.mercyships.org
Hi-res photos and general Mercy Ships B-Roll video footage of the current work of Mercy Ships in Africa are available upon request.