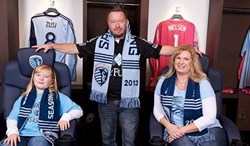 Providing opportunities for others to join a successful, cutting edge digital marketing firm and the freedom to have a balanced family life are important to the founders
Denver, CO (PRWEB) December 13, 2013
Scott Watson and his wife Stephanie live in Overland Park, Kansas with their 9 year old daughter. Scott's background includes working in account management and customer service for AT&T, IBM and Sprint in Kansas City. Denver based Internet marketing firm C1 Partners gives Scott the freedom to work from his home in Overland Park.
The portfolio of accounts Scott manages for C1 Partners includes small and medium sized businesses in multiple industries throughout the United States; law firms, real estate companies, healthcare companies, startups, eCommerce and services companies.
"It is a fast paced and challenging environment that allows me the freedom to be involved in my daughter's life on a daily basis, including taking her to and from school daily." said Scott.
Family Time and Sport Time Are Part of The Culture at C1
Scott and his wife recently attended the MLS Cup soccer championship game in Kansas City with his family as the K C Sporting defeated Real Salt Lake in penalty kicks after overtime in freezing cold weather this past Saturday.
C1 Partners business owners Dan Stratford and Dan Smink were excited to bring Scott on board.
"With Scott's decades of experience working for large technology based service providers, he is an excellent addition to the C1 team, and Scott and I go way back; we played college soccer together at Missouri Southern State University over twenty years ago. As Colorado Rapids season ticket holders, Smink and I are hopeful that our home team will give the Sporting a run for their money in 2014-maybe even host the MLS Cup, or at least some more playoff games! Of course The Broncos - Chiefs rivalry adds another dimension to the mix-especially this year" said Stratford.
Besides running a rapidly growing digital marketing firm, C1 founders Dan Smink and Dan Stratford are heavily involved in soccer in the Denver metro area. Stratford has coached all five of his children at Colorado Storm soccer club, and currently coaches his two youngest daughter's teams. Stratford's oldest son Tyler played soccer on three continents for the USA Military Soccer team through 2011. Smink coached his two children and they now both play competitively for the Colorado Rapids club. Both Smink and Stratford have served as board members for their clubs, and they provide marketing consulting for four soccer organizations in the Denver area.
Stratford & Smink started C1 Partners after leaving large corporations that required extensive travel, taking them away from their families.
"I left the corporate world so I could coach my kid's soccer teams, volunteer at their school, and even attend parent teacher conferences Of course we work hard to enjoy the enormous growth we have had in 2013, but we have the freedom to spend time every day with our children, picking them up from school and getting them to soccer events around town. Our wives have successful careers so being able to contribute every day as fathers and husbands is a huge blessing." Smink continues, "It has been an exciting year for us at C1 Partners. We have experienced exponential growth since 2012, and in 2014 we expect to more than double again. Adding Scott to our team will help us continue to provide top notch services to our clients and help prepare for further growth."
Helping their clients grow their businesses through digital marketing is what drives the success of C1 Partners. Providing opportunities for others to join a successful, cutting edge digital marketing firm and the freedom to have a balanced family life are important to the founders. With the projected significant growth in 2014, they will be adding more digital strategists, SEO experts, Adwords specialists and account managers to their team in the coming year.
About C1 Partners
Originally established in Denver in 2004, C1 Partners provides a comprehensive suite top notch digital marketing services including demand Search Engine Optimization (SEO), PPC, Social Media and lead nurturing services to deliver qualified sales leads to their clients. They work with law firms and business owners, senior executives, and marketing executives of small and medium sized companies throughout the US and abroad to help them achieve their business goals through their digital marketing platforms. They supply access to talent and speed to market to increase leads and customer conversion via digital inbound marketing.