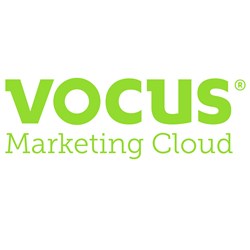 The MoDev organization has a well-deserved reputation for elevating mobile marketing and technology. I look forward to the thought-provoking conversations influenced by both attendees and speakers alike.
Beltsville, MD (PRWEB) December 10, 2013
Vocus, Inc. (NASDAQ: VOCS), a leading provider of cloud-based marketing software and consulting services, announced today that Vocus Senior Vice President of Products You Mon Tsang will keynote Friday's MoDevEast 2013 Conference, the biggest mobile event on the East Coast. Fellow Vocus team members, Director of Product Management Natalia Dykyj and Senior Product Manager Eddie Howard, will join Tsang at the conference leading individual sessions. MoDevEast spans consumer and enterprise markets across all platforms and disciplines, and will be held at the Gannett Conference Center in McLean, Virginia on Dec. 12-13, 2013.
On Friday, Dec. 13 at 12:15 p.m. EST in the Auditorium, Tsang's keynote, "Mobile Marketing: Now and Later," will highlight upcoming mobile technology and marketing trends and discuss how to market mobile to customers and prospects today.
"MoDevEast is a great opportunity to share Vocus' expertise with hundreds of industry innovators," said Tsang. "The MoDev organization has a well-deserved reputation for elevating mobile marketing and technology. I look forward to the thought-provoking conversations influenced by both attendees and speakers alike."
The "Mobile Email Marketing: Tips and Best Practices for 2014" session will be led by Howard on Dec. 13 at 1:30 p.m. EST in the A/B Dining Room. In this session, Howard will discuss the importance of creating mobile-friendly emails and teach its best practices, including effective responsive designs and mobile testing.
Dykyj will lead the "Mobile-Ready Marketing Campaigns" session also on Dec. 13 at 3:45 p.m. EST in Conference A. Attendees will learn how to create content marketing strategies to reach a mobile audience, increase visibility for local search, and build landing pages and emails with mobile consumers in mind.
For more information on MoDevEast, visit http://www.east13.gomodev.com.
###
About Vocus
Vocus (NASDAQ: VOCS) provides leading cloud-based marketing software and consulting services enabling companies to acquire and retain customers. The company offers an all-in-one suite of applications and consulting services to help clients attract and engage prospects, capture and keep customers, and measure and improve marketing effectiveness. More than 17,000 annual subscription customers across a wide variety of industries use Vocus software. The company is headquartered in Beltsville, MD with offices in North America, Europe and Asia. For more information, visit http://www.vocus.com or call (800) 345-5572.
Forward-Looking Statement
This release contains "forward-looking" statements that are made pursuant to the Safe Harbor provision of the Private Securities Litigation Reform Act of 1995. These statements are predictive in nature, that depend upon or refer to future events or conditions or that include words such as "may," "will," "expects," "projects," "anticipates," "estimates," "believes," "intends," "plans," "should," "seeks," and similar expressions. This press release contains forward-looking statements relating to, among other things, Vocus' expectations and assumptions concerning future financial performance. Forward-looking statements involve known and unknown risks and uncertainties that may cause actual future results to differ materially from those projected or contemplated in the forward-looking statements. Forward-looking statements may be significantly impacted by certain risks and uncertainties described in Vocus' filings with the Securities and Exchange Commission.
The risks and uncertainties referred to above include, but are not limited to, risks associated with possible fluctuations in our operating results and rate of growth, our history of operating losses, risks associated with acquisitions, including our ability to successfully integrate acquired businesses, risks associated with our foreign operations, interruptions or delays in our service or our web hosting, our business model, breach of our security measures, the emerging market in which we operate, our relatively limited operating history, our ability to hire, retain, and motivate our employees and manage our growth, competition, our ability to continue to release and gain customer acceptance of new and improved versions of our service, successful customer deployment and utilization of our services, fluctuations in the number of shares outstanding, foreign currency exchange rates and interest rate.