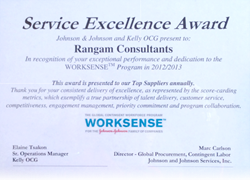 Our focus is to create more job opportunities, which, in turn, will generate revenues for our clients and at the same time, will contribute to Rangam's development as an organization
Somerset, New Jersey (PRWEB) October 16, 2013
The pharmaceutical company recognized Rangam's "exceptional performance and dedication" in 2012-13, during which period the staffing organization worked in a program managed by Kelly OCG, and staffed skilled candidates who had a direct influence on reducing recruitment life cycles and cost to company. Rangam also received words of praise for complying with rules and regulations and maintaining a good overall success ratio.
"Thank you for your consistent delivery of excellence, as represented by the score-carding metrics, which exemplify a true partnership of talent delivery, customer service, competitiveness, engagement management, priority commitment and program collaboration," read the award plaque.
Notably, Rangam has been the number one vendor for the same pharmaceutical company since 2011, besides consistently featuring in the pool of top 5 performing vendors for its other Fortune 500 clients.
Earlier in August, Rangam made to Inc. Magazine's list of top 5000 fastest growing private companies in the US and top 100 in New Jersey, thanks to a phenomenal 162% revenue growth since 2010. Over the last 3 years, the company has added 140 new jobs for the temporary workforce.
Since 2008-09, creation of temporary staffing jobs has been instrumental in the recovery of US economy. A recent Randstad USA report says that private sector employees in the US are experiencing the highest level of job security since the great financial downturn.
"Our focus is to create more job opportunities, which, in turn, will generate revenues for our clients and at the same time, will contribute to Rangam's development as an organization. We want to have a win-win situation where all parties concerned will be able to derive benefits from a cohesive growth pattern. As part of our extension plans, we are already in talks with a few large clients from pharmaceutical and management consulting industries," said CEO Nish Parikh.
Parikh also touched upon Rangam's autism initiatives in partnership with its subsidiary WebTeam Corporation and industry experts. "Our goal is not only to promote employment and help the US economy, but also to introduce efficiency in healthcare and education systems. So WebTeam Corporation is into mental health and special needs education, while Rangam is creating new jobs for the temporary workforce," he added.
About Rangam Consultants
Housed in the Garden State of New Jersey, Rangam Consultants Inc. is among the most robust and dynamic staffing enterprises in the United States. With a team of 230 professionals, Rangam has been catering to the temp staffing requirements of an elite league of Fortune 500 clients since 1995. Besides staffing, Rangam specializes in software development, web development, mobile application development, infrastructure management, technical documentation, network design and implementation, and voice over IP engineering.