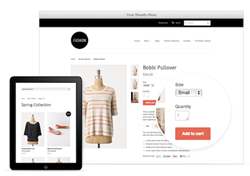 Denver, CO (PRWEB) September 17, 2013
The 2013 Shopify build a business competition has just been announced. The build a business challenge is designed for business owners to get their businesses online and compete with other business owners from all over the world for the next 8 months. The new Shopify challenge has caught the attention of RyanCoisson.com's Ryan Coisson, prompting an detailed analysis and review.
"Shopify is taking things to the absolute next level when it comes to helping business owners succeed in a crowded online world. They have pooled together some of the best talent in the world to help businesses thrive in 10 different categories including fashion & apparel, electronics & gadgets, photography & art, jewelry & crafts, sports & recreation, food & beverage, health & beauty, music and last but not least a category that encompasses everything else," reports Coisson.
Here's what Arianna Huffington had to say about it: "What I love most about Build a Business — beyond its ability to launch new businesses and improve the consumer experience — is its focus on mentorship. It's about building while tapping into the wisdom and experience of others, and telling the stories of the hard work, creativity and collaboration that fuel innovation."
Coisson says "that after the 8 months a business owner within each category can win $50,000, an all-inclusive trip to New York, face to face meeting with their mentor and a complete Shopify POS package, with iPad. Talk about an experience of a lifetime for any business owner."
To learn more about the competition, visit Shopify's website here.
To get started with the challenge and get access to a free 14 day trial account go here.
"There really is no reason that a business owner shouldn't take advantage of Shopify's new competition. This is truly an excellent opportunity for a business owner to learn how to get their business online and have expert advice from industry leaders."
To learn more about Shopify, one can read this detailed review on Coisson's site here.