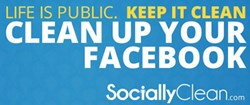 Baltimore, MD (PRWEB) November 19, 2013
Socially Clean proves people are not who they think they are on Facebook. This new service analyzes every picture and status update that is still lurking on Facebook. As people never look at them, it is easy to fail and consider their consequences. More specifically, it's the pictures posted from a keg party from years ago or status updates and pictures from a previous relationship fueled with passion. Regardless of what the world believes, other people are curious and interested in a person's past. Controlling what they discover has become more critical than ever before.
That's where Socially Clean comes in. Founded by Nicholas Fiorentino, Benjamin Brown, and Nathan Mostow, this new web-based service offers a fully automated solution specifically designed to clean up your Facebook timeline. Whether a user is looking for a new job, applying to colleges, looking for love, or just wants to do some routine cleaning, Socially Clean can help make sure that a Facebook image is working in a user's favor. Downloading the Socially Clean App allows users to perform custom searches such as "I love you" on an ex's profile so that text can be identified and removed.
Facebook is a great thing and has become popular for many reasons. It's become a way that people can connect with one another. It's a simple and easy platform to share images and messages with friends and family, but it can also cause problems users might not be aware of.
Employers are increasingly using Facebook as a means to research job applicants as well. Oftentimes employers after performing a quick check of the applicants Facebook account find profanity, pictures from wild parties, or even harsh words about a previous employer. Frequently this leads to a detrimental judgment in character regardless of how harmless it was thought to be. What Facebook users put on the Internet stays on the Internet. While those free-spirited and carefree nights might be over, it's important that a user's Facebook timeline reflects a mature and responsible image.
After a user authorizes Socially Clean to access to their Facebook timeline, the app performs a scan of the posting history of the entire account. It looks through status updates, photos, comments, fan pages, videos, and shared content for a wide range of "questionable" keywords and sensitive topics. After selecting what content should be deleted, users are either emailed a list of links (free) or can purchase an inexpensive paid software application to automatically perform the task.
Socially Clean never has access to passwords, private messages, or any financial information. Also, nothing is ever deleted from a Facebook timeline without the approval of a user. After the issues flagged by Socially Clean have been reviewed, users can choose whether they would like to keep or delete each item, until their profile cleanliness reflects the person they want to be portrayed as.
Socially Clean recently completed their soft launch and has just launched the Socially Clean App. The service plans to expand their reach to a variety of social networks so other social accounts can be analyzed and cleaned too.
"Your online image and reputation is everything; guard it with your life". That statement by founder Nicholas Fiorentino represents the message that Socially Clean would like to express to all Facebook users.
For more information about Socially Clean please visit http://www.sociallyclean.com.
About Socially Clean and A Springs, LLC:
Socially Clean was founded after a fun-filled "Saturday night" Facebook post came back to haunt one of the Founders. After a number of fruitless Google searches trying to find a tool that would clean up his profile, he realized that (shockingly) nothing existed. With an entrepreneurial spirit (and a still-dirty Facebook profile) Socially Clean was born.