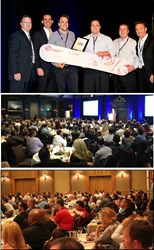 Sandy, UT (PRWEB) July 09, 2013
Telarus, Inc., value-added distributor of data, voice, and cloud services, today announced that its annual event - the Telarus Partner Summit - held on June 18-20, 2013 at the Stein Eriksen Resort, broke the previous attendance record by over 35%. The feat was made possible by the growing roster of data, voice, and cloud providers and sales partners who came to Deer Valley, Utah to conduct private meetings, panel discussions, supplier fairs, and to hear from several professional speakers, including Boyd Matheson (Chief of Staff for U.S. Senator Mike Lee), Chistophe Morin (Chief 'Pain Officer' for SalesBrain), and Dan Shapero (CEO of ClikCloud.com). The conference spanned three days and had over 400 guests in attendance.
"We are excited to see our conference continue to gather momentum and to be a valuable resource to both our suppliers and partners," commented Patrick Oborn, VP of Marketing for Telarus and chief architect of the event. "My staff worked extremely hard this year to put together a unique experience for over 400 people and that, we believe, is the difference-maker for us. We don't leave things to chance - we play the role of 'match maker' to ensure that the suppliers and partners that should meet together, do."
The Partner Summit began on June 18, 2013 by welcoming the members of the Women in the Channel association - its first ever meeting outside of Channel Partners Show - followed by an awards banquet in which Telarus honored its top partners and suppliers, followed by the keynote address by Boyd Matheson and a cocktail reception in the recently-completed grand ballroom of the Stein Eriksen Resort.
The second day featured a presentation by Patrick Oborn that covered which VARs that make the best telecom referral partners. Dan Shapero gave a presentation entitled 'Cloud Solutions Playbook' that stepped partners through the process of adding cloud services into their portfolios. That was followed up with a Cloud Discussion Panel, featuring Dan Shapero, Jake Cummins, president of Cloudnexion, Kris Hogaboom, head engineer for NewCloud Networks, and Jeff Uphues, VP of Sales for Cbeyond. Later that day, the partners of Telarus enjoyed a supplier rapid fire where they heard from each of the 29 exhibitors for 4 minutes, followed by a vendor fair.
The last day included activities that ranged from golf, river rafting, zip lining, alpine slides, mountain biking, hiking, all the way to spa treatments at the Stein Eriksen's 5-star spa. The concluding banquet featured a video from the 2013 Telarus president's club trip to Punta Cana, Dominican Republic, a short address from Adam Edwards, president of Telarus, live music, and a live feed of the NBA Finals Game 7.
Rave reviews from conference attendees poured in following the event:
"The 2013 Telarus Partner Summit was an amazing event. Telarus arranged for Earthlink Business to meet, in private, over a dozen partners who all expressed an interest in our new IT Services portfolio. We were also honored to receive the award for Top 5 Supplier (by sales volume) and Top Local Channel Manager (Ryan Burke). The event continues to grow and improve each year, and we look forward to participating in 2014." - Sherri Turpin, VP of Channel Strategy, Earthlink Business
"I was impressed with the angle of approach Telarus takes. Have fun, offer a lively spirit in the evening, but let's focus on why we traveled far distances to spend valuable time: Business Development! I believe your strengths have yet to register with other master agents as value props (which the agent community is desperate to have). As the word continues to get out to those who are not (yet) bringing business to Telarus, it is only a matter of time before they do!" - James Warren, President, RDM Communications
"The execution of everything was virtually flawless and that is a testimony in itself to what a fantastic team you have and the long hours they put in to make this event as special as it was, so a major kudos to your entire team." - Jon Arnold, Principal, JA Communications Group
"We want to say a huge thank the Telarus team for a fabulous event! I didn't think you could top last year's effort but managed to do just that. You have to be so proud of your staff and their impeccable attention to detail. I congratulate you for an informative, inspiring and very enjoyable first class event!" - Marilyn Dooley, Founding Partner, Telco Management Group
"This was our 2nd year at TPS and it once again exceeded all of our expectations. The attention to detail and personalized schedule was impressive as well as the rare opportunity to meet directly with the carriers we do business with. Being recognized as a top 8 partner for 2012 was an added bonus and will fuel our fire to reach higher this year!" - Mike Sickle, President, Dynamic Network Advisors
"A special thanks goes out to all who planned, attended, and participated in Telarus Partner Summit 2013," added Adam Edwards, president of Telarus. "The conference presented a rare chance for us to get together as a group, learn how our reptilian brains work, learn how to take advantage of industry trends such as convergence of IT and telecom, and to have a great time in a world-class resort. We look forward to doing it all over again in 2014!"
You can view all of the event photos online on the Telarus Facebook page.
About Telarus
Telarus, Inc., a value added distributor that holds contracts with the world's leading commercial telecommunication carriers, makes it easier and more profitable for solution providers, VARs, and MSPs to sell and source voice and data WAN solutions. Our patented GeoQuote platform combines real-time carrier pricing with advanced research features and branded proposals. Telarus' experienced Sales staff is strategically focused on enterprise WAN and high-capacity bandwidth solutions, making it easier to find the best offer, every time. For its part, Telarus has been named the top Master Agent by the members of the Telecom Association in each of the past three years, the first and only company in the carrier channel to accomplish this feat. Whether you are a top producer or a voice-and-data expert just starting out on your own, there is a place for you in the Telarus community. For more information on the Telarus partner program, please visit telarus.com or call the new partner hotline at 877-346-3232.