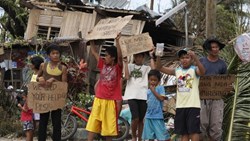 More than 2 million people need food.
Tablocan, Phillippines (PRWEB) November 13, 2013
Crowdfunding for those devastated by Typhoon Haiyan is here and help is needed immediately. An Indiegogo campaign has been created to help out the victims of the most deadly natural disaster in history.
It's our job as humanitarians to help the victims of the Philippines who have lost nearly everything. Now we need to rush and provide aid as clean water, food, and lives are all in danger. Major public health outbreaks are at serious risk and Typhoon Haiyan has affected 9.5 million people across the Philippines while displacing at least 600,000, according to the U.N.
"Some people are losing their minds. ... People are becoming violent. They are looting business establishments, the malls, just to find food. I'm afraid that in one week, people will be killing from hunger," a local schoolteacher, Andrew Pomeda, said.
Indiegogo, a popular crowd funding website, now has a campaign running where you can pitch in and help donate to those in need through the International Rescue Committee, a 501 (c)(3) that has been proactive in sending aid and relief to the damaged region where roads, airports, homes, and lives have been destroyed. A donation as small as $1.00 can be made to help and make a difference for those in need in these desperate times.
You can show your support and do your part by donating here: http://www.indiegogo.com/projects/lets-help-rescue-typhoon-haiyan-victims-in-the-phillippines/x/4268337.