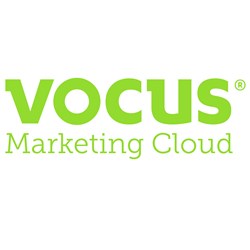 These webinars will guide marketers through the ever-shifting landscape of technology-based marketing and help them to avoid the pitfalls of status quo.
Beltsville, MD (PRWEB) October 11, 2013
Vocus, Inc. (NASDAQ: VOCS), a leading marketing cloud provider, announced three webinars for October. These instructional, hour-long sessions will help marketers rethink their tactics to adapt to the new, technology-driven world of marketing.

Brands want media coverage, but reporters' inboxes are crowded and pitching takes time. Luckily, there's another way to get earned media success, according to "The Social Media Side Door" author Ian Greenleigh. In this webinar on Oct. 16, Greenleigh will cover social networking tactics to bypass the traditional pitching process and open new lines of engagement with reporters to gain increased media coverage.
Technology has changed marketing, but many businesses are having trouble adjusting. Turn disruption into opportunity by using technology to better engage your target audience, says Mitch Joel, author of "CTRL ALT Delete." On Oct. 26, Joel will lead a webinar to teach you how to reboot your marketing, use utility to strengthen your customer relationships and leverage five key tech trends to connect with customers faster than your competition.
What's next for marketing? On Oct. 30, Brian Solis, Altimeter Group's world-renowned technologist and author of "What's the Future of Business?" will tackle that question during the "Future of Marketing" webinar. Solis will map out the future's key marketing trends, including how to reach the 'Generation C' of connected consumers, the power of shared customer experiences and why they're crucial for marketers, and six new principles of online influence every marketer needs to know.
"A critical time for marketers is when their tried-and-true tactics don't work as well as they once did," said Vocus Chief Marketing Officer Mark Gambill. "These webinars will guide marketers through the ever-shifting landscape of technology-based marketing and help them to avoid the pitfalls of status quo."
All Vocus webinars are free and open to the public. They start at 2:00 p.m. EST (UTC/GMT - 4h), unless otherwise noted. Register for each webinar by clicking the links above. Webinars are presented through your computer without a separate dial-in number. On-demand replays of these webinars are available to registered attendees. An archive of our recent webinars is located at http://www.vocus.com/resources/webinars-events.
About Vocus
Vocus is a leading marketing cloud provider that helps businesses reach and influence buyers across social networks, online and through media. Vocus provides an integrated suite that combines social marketing, search marketing, email marketing and publicity into a comprehensive solution to help businesses attract, engage and retain customers. Vocus software is used by more than 120,000 organizations worldwide and is available in seven languages. Vocus is based in Beltsville, MD with offices in North America, Europe and Asia. For further information, please visit http://www.vocus.com or call (800) 345-5572.
Forward-Looking Statement
This release contains "forward-looking" statements that are made pursuant to the Safe Harbor provision of the Private Securities Litigation Reform Act of 1995. These statements are predictive in nature, that depend upon or refer to future events or conditions or that include words such as "may," "will," "expects," "projects," "anticipates," "estimates," "believes," "intends," "plans," "should," "seeks," and similar expressions. This press release contains forward-looking statements relating to, among other things, Vocus' expectations and assumptions concerning future financial performance. Forward-looking statements involve known and unknown risks and uncertainties that may cause actual future results to differ materially from those projected or contemplated in the forward-looking statements. Forward-looking statements may be significantly impacted by certain risks and uncertainties described in Vocus' filings with the Securities and Exchange Commission.
The risks and uncertainties referred to above include, but are not limited to, risks associated with possible fluctuations in our operating results and rate of growth, our history of operating losses, risks associated with acquisitions, including our ability to successfully integrate acquired businesses, risks associated with our foreign operations, interruptions or delays in our service or our web hosting, our business model, breach of our security measures, the emerging market in which we operate, our relatively limited operating history, our ability to hire, retain, and motivate our employees and manage our growth, competition, our ability to continue to release and gain customer acceptance of new and improved versions of our service, successful customer deployment and utilization of our services, fluctuations in the number of shares outstanding, foreign currency exchange rates and interest rate.