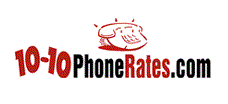 If one household gets VoIP service with an international area code, both households can make 'local calls', internationally.
(PRWEB) October 07, 2013
It's the time of year to call friends, family, or business partners in India to say "Ganpati Bappa Morya." As the Ganpati Festival is being celebrated, pick up the phone and reach out to India without the worry of spending a fortune on the monthly telephone bill. Voice over Internet Protocol, also called VoIP", is the cheap, new way to make calls using the Internet rather than the expensive, traditional, landline method. After reviewing the service ratings, plan features, and prices of the nations best international VoIP providers, 1010PhoneRates.com announces the top 4 VoIP providers for cheap calls to India.
1. VoIPO
VoIPo residential calling plans start at just $6.21/month for 60 minutes of international calling to over 60 countries, including India. After using the initial 60 minutes, the per minute rate to India is just $0.02/minute. Right now VoIPo is offering a two year contract for just $149.00 which brings the monthly rate to $6.21/month. That plan includes unlimited calling in the US and Canada and over 40 features like SMS text, call-forwarding, 3-way calling, call-waiting, Caller ID, and more.
2. AXvoice
For more frequent calling to India, Axvoice International Service plans allow unlimited international calls to 45 countries including India, for $16.85/month. The plan allows customers to keep their existing phone number, has a 30 day money-back guarantee, and includes free hardware with no activation fee. Simply plug in the Internet phone and begin calling immediately.
3. VoIP.com
The VoIP.com Global calling plan can be as low as $24.95/month, with a two-year contract. With a one-year contract the cost goes up slightly to $29.95/month. The plan allows for unlimited calling to 75 countries, including mobile calls to India. The plan also comes with all standard cloud-calling features included such as caller ID, directory, 911, 411, call forwarding, call waiting, and online call management. VoIP.com also offers "virtual" International area codes so that calls from India are billed as local calls to the caller.
4. ITP (Internet Telephone Provider)
ITP International Calling plans include unlimited calls to over 60 countries worldwide, including India. The plan starts at $24.99/month per user, and offers an international area code option. That way any calls placed to or from the specified area code are billed as a cheap, local call. For families that want to keep in touch, the option of unlimited cheap local rates for calls to and from India and the US (for both households) is a great gift for the holiday. If one household gets VoIP service with an international code, both households can make "local calls", internationally.
International calling is on the rise. And while VoIP telephone service providers can't take all the credit, it's certain that cheap and unlimited international rates at rock-bottom prices definitely helps. For businesses, families, and visitors in India and the US, the best way to stay in touch is with an International calling plan from a VoIP telephone service provider. Plan features may vary, so customers should consult more than one provider before deciding on the plan that's works best for them.