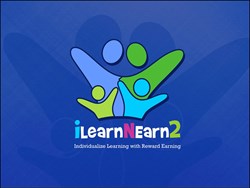 The future of special needs education lies in mobile technology. As school districts struggle to serve the growing number of children diagnosed with autism, mobile technology can extend classroom intervention to homes.
Somerset, New Jersey (PRWEB) September 09, 2013
At a press conference hosted by Eden Autism Services at New Jersey's State House in Trenton, Somerset-based WebTeam Corporation unveiled the latest in its arsenal of technology tools for tackling autism.
Nish Parikh, CEO, debuted WebTeam Corporation's iLearnNEarn2, the latest generation app series for individuals with autism. The series – developed in collaboration with Eden Autism Services - includes a comprehensive library of Applied Behavior Analysis (ABA) curriculum-based interactive activities that can be tailored to individual needs and abilities, themes and rewards. iLearnNEarn2 will be made available in 2 versions: iLearnNEarn2 – Infant & Toddler and iLearnNEarn2 – School and Adult Series. The Infant & Toddler version will include 75 skills for preschoolers, while the Adult version will include 200 skills covering all 4 skill domains for students, K through 12 and adults.
"iLearnNEarn2 is the culmination of six years of research and development and feedback from more than 1.2 million downloads of iLearnNEarn and related apps," commented Mr. Parikh, whose company has developed over 150 autism apps available globally across all platforms (iOS/Google Play/Kindle/Nook) in multiple languages.
Mr. Parikh also demonstrated the Autism N Developmental Disorder (ANDDS) screening app, which can help parents get early indications of autism in children as young as 8 months. Based on those indicators, parents can visit pediatricians for a further diagnosis. Developed in collaboration with Michael Lewis, Ph.D., University Distinguished Professor of Pediatrics and Psychiatry; Director for the Study of Child Development Rutgers Robert Wood Johnson Medical School, the groundbreaking screening tool will help expedite the detection of autism and initiate proper treatment.
"There are limited tools for parents to identify symptoms autism, while signs of autism or other common developmental delays can appear in infants as early as six months," commented Mr. Parikh. "Most children on the spectrum are not diagnosed until after age four due to parents' lack of knowledge about early warning signs and a shortage of autism specialists with whom they can consult," he added.
The ANDDS app is designed to help parents evaluate a child's development at intervals from 8-36 months by answering a specific set of questions assigned to each age group.
State leaders and members of the autism community also got an up close look at WebTeam's iAssessNTeach apps for parents and professional involved in the education of infants and toddlers with autism (Home Series) and school-age children (School Series). The iAssessNTeach apps, which systematically assess skill areas in all domains and can be used for setting learning goals for children with autism, were developed by WebTeam based on Eden's comprehensive curriculum teaching protocol for skills acquisitions.
"The future of special needs education lies in mobile technology," observed Mr. Parikh. "As school districts struggle to serve the growing number of children diagnosed with autism, mobile technology can extend classroom intervention to homes. Teachers can engage more than one student for hours in tasks that can be customized to meet their unique learning goals. Parents can continue that same lesson plan at home; and everyone can benefit by using mobile technology as an efficient and reliable means of collecting and analyzing data. We cannot place a value on the human interaction provided by teachers and therapists. Therefore, we are working on all of these apps to help them face their daily challenges with the latest technology at hand. I strongly believe that we need a collaborative approach to effectively deal with autism," Mr. Parikh continued, adding, "With 1 in 49 children in NJ living with an autism spectrum disorder, it is incumbent upon us to be on the forefront of research, development, and innovation. By combining world-class technology with the clinical expertise of Eden and Dr. Lewis and partnering with education experts, healthcare professionals, industry leaders, and legislators across the state, we can help improve countless lives."
About WebTeam Corporation
WebTeam Corporation was founded at a time when autism intervention in the classroom was largely unstructured. Back in 2007 and the ensuing couple of years, WebTeam was busy experimenting with a few technologies to ascertain if teachers could benefit from using touchscreen kiosks in the classroom. The experimentation led to the development of S.H.A.N.E.S.H. Colors Program, which, together with the app-based iLearnNEarn Program that was put to use in 2011, charted a new horizon in autism treatment by extending classroom intervention to homes and therapy centers globally. Since January 2012, WebTeam's autism apps have registered 1.2 million downloads across iTunes, Google Play, Nook and Kindle, while delivering 10,000 daily sessions on average.
The company's mission is to increase the bandwidth of the educational bodies and service providers to accommodate the increasing demand of autism intervention along with helping children with ADHD, autism and Asperger's to improve their lives by making them independent.