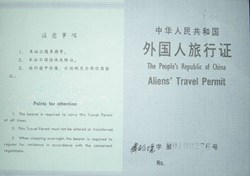 Tibet Everest Base Camp is closed due to heavy snow winter 2013! Check more details with local Tibet travel agency now!
Lhasa, Tibet (PRWEB) October 20, 2013
Tibet permit 2013 regulations have been a top concern for travelers planning a winter tour of Tibet. Although many will be sticking to Lhasa and avoiding the harsh winter weather of other regions, a travel permit will still be required. While the details of what permit is required when may seem overwhelming at first, the truth is that a Tibet travel agency will do the vast majority of the legwork required. Tibet Ctrip Travel Service-TCTS (http://www.tibetctrip.com) discusses the details.

After booking a tour, travelers will need to provide TCTS a copy of their passport information page and Chinese visa. If either of these documents are unavailable at the time of booking, please be sure to submit them at least two weeks before arrival in Tibet.
Many travelers like to think of their travel permit as a kind of Tibet visa; it must be presented when boarding trains or checking into flights. If a tour group is arriving in Tibet overland from Nepal (or flying from Kathmandu) their tour guide will meet them at the border (or airport) with the permit in hand. Those arriving from Mainland China will need to supply TCTS with an address in Mainland China where the permit can be sent; most have it send to a hotel.
Travel groups of any size can obtain a travel permit, even individuals. Keep in mind that travel groups with members of different nationalities will not be able enter Tibet on the same permit. Also, those who are journalists, foreign diplomats, or military personnel may need special permission from the Tibet Travel Bureau before a permit can be issued. TCTS will provide details to affected travelers during the tour planning process.
For most travelers, obtaining a Tibet travel permit is relatively straightforward as they are rarely denied. All travelers need to do is make sure they provide copies of their passports and Chinese visas; other than that a travel agency like TCTS will take care of the details. Please be aware that regulations may change without advanced notice, TCTS will help affected travelers adjust their itineraries. Winter brings smaller crowds and a side of Tibet most visitors miss out on; travelers are encouraged to start planning their tour now.
Devin Moore, author of this release, is a travel writer and independent economic analyst based in Denver, Colorado USA. In partnership with local Tibet travel agency TCTS (tibetctrip.com), Devin publishes Tibet travel related information in order to spread awareness of Tibet and its people.