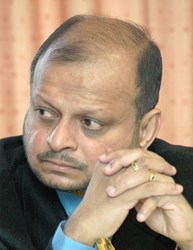 It is noteworthy that TGTE's Constitution mandates that it should realize its political objective only through peaceful and democratic means
New York, New York (PRWEB) December 30, 2013
The Transnational Government of Tamil Eelam (TGTE) re-elected Mr. Visuvanathan Rudrakumaran as their Prime Minister for their second Parliamentary term on December 6, 2013.
During his first term, the TGTE gained diplomatic recognition from two countries, South Sudan and Northern Ireland.
Additionally, TGTE promulgated a Freedom Charter on May 18, 2013 (this was inspired by the African National Congress's Freedom Charter in South Africa).
Presently, in addition to the campaign for an international investigation, TGTE is also campaigning for an International Protection Mechanism for Sri Lankan Tamils and to secure the release of documents on Tamils prepared by the Office of the Special Advisor to UN Secretary-General on Prevention of Genocide.
"Rudrakumaran and Tamils for Obama share the same goal. Both believe that referendum among Tamils inside Sri Lanka and Tamil diaspora will contribute to the political solution to the conflict" said a spokesman for Tamils for Obama.
"Also, we see the purpose of TGTE as laying the foundation for an independent Tamil Eelam and democracy in the northeast of Sri Lanka" he continued.
"Under Rudrakumaran's leadership, we trust that process has begun."
"It is noteworthy that TGTE's Constitution mandates that it should realize its political objective only through peaceful and democratic means" continued the spokesman.
Mr. Rudrakumaran practices law in Manhattan, New York.
Tamils for Obama is a politically active group of Tamil Americans. They believe that over 70,000 Tamil civilians were massacred during the last weeks of the Sri Lankan ethnic war. They have also watched the behavior of the Sri Lankan Singhalese victors after the war, and strongly conclude that Tamils in Sri Lanka will only be safe when this unfortunate island is divided into two states.
To contact the group, call at (516) 308-2645 and speak to, or leave a message for, the Communication Director, Tamils for Obama.
Email: info(at)TamilsforObama(dot)com