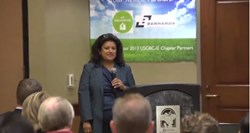 Energy is one of the highest costs. That's something you can manipulate proactively. So, now we have the money, and we're going to prepare schools to do just that.
Rancho Cucamonga, CA (PRWEB) January 16, 2014
On September 25th, the Inland Empire chapter of the U.S. Green Building Council (USGBC-IE) invited Anna Ferrera, the executive director for the School Energy Coalition (SEC,) to speak with an audience of school administrators, builders, vendors and city planners about the impact of California's recently passed funding measure, Proposition 39. The event, hosted by the National Electrical Contactors Association (NECA) and the International Brotherhood of Electrical Workers (IBEW,) was also sponsored by Bernard's contracting, engineering consultant, TTG, and engineering specialists, Southland Industries. Proposition 39 was overwhelmingly approved by California voters in the fall elections of 2012. The new law will fund energy efficient projects and create green energy jobs. The new revenue comes from disallowing certain tax advantages to corporations operating in California not based in the state. The proposal will generate an approximate $1 billion per year to the general fund, however, for the first five years, half of the money will be appropriated for energy efficient projects. In the summer of 2013, Governor Jerry Brown and the California Legislature further refined the revenue to target mainly K-14 schools.
The money will be available soon. California's recently accepted 2013-14 budget act, appropriated $381 million to begin the program. Over the next five years, the plan will transfer an additional estimated $2.5 billion for energy retrofits, upgrades and renewable technology. Before the assembly began, Energy Independence Magazine had a chance to speak with Ferrera about the meeting. Ferrera commented, "I'm going to be talking about the parameters; what generally will be in the language," because the California Energy Commission (CEC) had not given explicit details about what types of projects were acceptable under the proposition. Her presentation, she said, aimed at generating a solid planning base. She wanted to discuss what kinds of energy projects should start first in accordance with California's mandated loading order that calls for efficiency before introducing renewable resources. Energy audits are an important first step, she says. "If you are using less energy, then you are paying less on your energy bill." She hopes to see the program as a "win, win, win" with not only savings and revenue strengthened, but also making strides in education, health and safety. Because of continuing budget cuts, she says, "Schools were looking for ways to lower their bottom lines. Energy is one of the highest costs. That's something you can manipulate proactively. So, now we have the money, and we're going to prepare schools to do just that."
Rick Fochtman is a founding member of the USGBC-IE. Before the event he said, "We have school districts and vendors from across the Inland Empire here to figure out how this money will be allocated to schools and, hopefully, a lot of our local businesses will be able to take part in these projects." Fochtman believes Prop 39 will create a wide range of jobs for the region. He says, the energy efficient projects in the bill include everything from lighting, air conditioning systems, solar panels and insulation. "It's bound to result in a lot of jobs," Fochtman said. He believes that after the CEC decides on guidelines, and the schools complete their assessments and audits, work should begin late next year. "After that I think we'll be construction rich," he says. Fochtman is an advocate of energy audits and assessments in the Prop 39 environment. "It's extremely important for a client to know what they have before they jump in," he says.
Marika Erdely of Green EconoMe thinks audits are import, too. Her company assists in energy assessments, understanding what energy challenges exist, then aids in undertaking the right projects and retrofits. "It's going to be hard to just make little improvements," she says. "I think it works best if you have a plan that says, let's see what's really going on with energy consumption… and plan, year to year, to make the changes in the building that benefits the school the best.'"