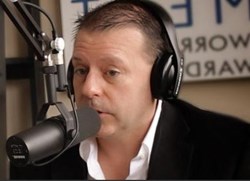 Misguided media has more negative power than using media the right way..."Coach Pete" D'Arruda
Middletown, OH (PRWEB) February 04, 2014
As the host of the nationally syndicated weekly radio show, The Financial Safari as well as the author of four books, D'Arruda speaks to both the lay person and the expert. He cautions his consumer audience how to avoid being taken advantage of and translates financial jargon for the inexperienced individual. For financial insiders, he helps them navigate the pitfalls in presenting a professional image.
"Creating a brand is important to all financial advisors," relates CEO and Workshop Presenter Ed Morrow. "At the April workshop, we cover the topic in a general sense and then give the attendee a specific task list to get them started. Pete D'Arruda will get even more specific by narrowing the advisor's focus on Financial Radio and TV."
As a media and radio expert, D'Arruda will cover in a rapid fire session - 7 Key Truths about Financial Radio and TV Shows. Some of these Key Truths include: "Understanding the Audience Size and Frequency of Your Message", "Why Your Radio and TV Station Does Not Care About You" and" How to See if You're Getting the Best Rate for your Radio or TV Program". He will follow up with Q&As later at the Financial Plan Competition Reception after the workshop.
"The power of media has never been greater," cautions "Coach Pete". "That power can be used in both good and bad ways. Learn what to do and what not to do."
Known also as the "King of Income Planning", Coach Pete's approach to safe and secure lifetime income planning is followed by many who wish to enjoy a worry-free retirement. As a member of the IARFC, he joins with association professionals in serving both the consumer and other financial advisors with years of financial planning expertise and practice management experience.
For more information or to register for the Impact Branding Workshop on April 30th in Las Vegas, visit http://www.iarfc.org or contact Amy Primeau at 800-532-9060 ext 307.