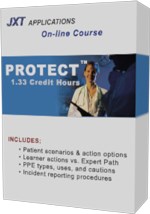 "JXT has been instrumental in creating interactive educational materials for health care professionals." - Dr. Katherine Cauley, Director of the Center for Healthy Communities, Wright State University
Dayton, OH (PRWEB) January 27, 2014
Protect© is an on-line continuing education (CE) course for Nurses. It contains interactive nurse-patient simulations in Urgent Care, Physicians Office, and School Health Clinic scenarios. It's designed to heighten situation awareness by leading the learner to recognize dangerous patient conditions, take appropriate safeguards, properly select and use personal protective equipment (PPE) when needed and report incidents to proper authority. In this course, the learner will select the scenario that is most similar to his/her work setting and:
Interact (Q&A) with patients exhibiting various respiratory problems (Avian, H1N1, seasonal flu, TB)
Take vitals, observe patient condition and determine next action
Assess the patients probable medical condition and the risk to self and others
Make decisions on the need for personal protection
Take appropriate protective measures when appropriate
When selected, review PPE types, uses, cautions, proper donning/doffing, PPE disposal and hand hygiene
Review appropriate incident reporting procedures
Report Incident, coordinate w/proper authority
Complete a post test and course evaluation (required for award of CEUs)
Course features include:
Course overview
Breaking news (video to set up the problem)
Interactive, multi-media Nurse – patient scenarios with decision/action options
PPE types, selection, use, disposal, hygiene
Incident reporting procedures
Review of Learner actions taken vs. Expert Path
Embedded Knowledge Tips and Job Aids
Glossary/Bibliography/Documentation
The Protect© course is approved for award of 1.33 hours Continuing Education.
This continuing nursing education activity was approved by the Ohio Nurses Association (OBN-001-91), an accredited approver by the American Nurses Credentialing Center's Commission on Accreditation. Approval valid through January 9, 2015. Assigned ONA 15,776-I.
Visit JXT Applications, http://www.jxtai.com/JXTAIHome.aspx, to purchase Protect© for $9.99.