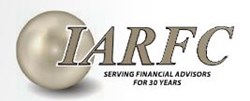 'Never before has so much advice and information been available and consumers more educated.' - IARFC President Les Anderson
Middletown, OH (PRWEB) January 24, 2014
The IARFC was founded in 1984 as an education and practice management exchange of highly qualified planners that met stringent education, licensing, ethics and continuing education requirements. The maintenance of this proficiency, with a minimum of 40 hours per year of continuing education in the field of financial planning, distinguishes the RFC® advisor from other professionals.
The IARFC is convinced that extensive on-going professional education is essential for an advisor to serve the public effectively. Their mission is to foster and enhance the growth of the association for the benefit of members and the clients they serve by providing a continuing source of information, education and networking.
The organization joins other recognized professions in requiring its members to provide professional services in accordance with a Code of Ethics - thus insuring the consumer that the RFC advisor will put the client's interest above their own and give the same service that they would give themselves in the same circumstances.
To highlight this anniversary, the IARFC is including a special section in its publication the Register. For every issue, the article titled PEARLS, Serving 30 Years will feature writings from long time advisors who can look at the past and apply their experience to the present. A pearl is the traditional gift for a thirty-year anniversary – thus an appropriate name for this reflective Register section.
For the Jan/Feb PEARLS, Les Anderson, RFC President was asked – how does increased customer awareness in the past 30 years change the way financial advisors do business today? "More is the name of the game," says Anderson. "Never before has so much advice and information been available and consumers more educated. The advisors have to step up their game with more knowledge, more education, more training and ultimately more responsibility to their clients."
Ed Morrow is reflective of his time as Chairman and CEO. "I am extremely delighted to have been part of such a diverse entity of members. I am proud of how the IARFC assists our advisors in their practice and feel that consumers are assured that choosing an RFC to manage their financial affairs is the right decision. We promote a win-win situation."
To find out more about the IARFC, visit their association website http://www.iarfc.org. To read the anniversary column: PEARLS Serving 30 Years click here.