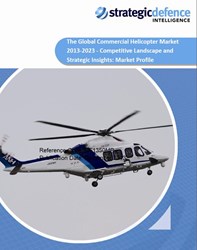 Rockville, MD (PRWEB) January 07, 2014
The Global Commercial Helicopter Market 2013-2023 - Competitive Landscape and Strategic Insights: Market Profile
The report provides a detailed analysis of the competitive landscape of the Commercial Helicopter market. It provides an overview of key Commercial Helicopter companies catering to the Commercial Helicopter sector, together with insights such as key alliances, strategic initiatives and a brief financial analysis.
The global commercial rotorcraft industry is highly concentrated with the majority of the market captured by five companies including Russian Helicopters, Bell helicopters, Sikorsky, Eurocopter, and AgustaWestland. These companies operate globally through established subsidiaries in major countries. However, countries around the world are pressing for the development of their domestic industry, which has resulted in the formation of joint ventures and development programs.
To order this report:
The Global Commercial Helicopter Market 2013-2023 - Competitive Landscape and Strategic Insights: Market Profile
Contact: Shauna
800.298.5699
Customerservice(at)marketresearch(dot)com
Strategic Defence Intelligence
Strategic Defence Intelligence provides a stream of continuously updated customer and competitor intelligence, as well as detailed research reports providing an unrivalled source of global information on the latest developments in the defence industry. Strategic Defence Intelligence's unique monitoring platform tracks global defence activity for over 2,500 companies and 65 product categories in real time and in a highly structured manner, giving a comprehensive and easily-searchable picture of all defence industry activity.
About MarketResearch.com
MarketResearch.com is the leading provider of global market intelligence products and services. With research reports from more than 720 top consulting and advisory firms, MarketResearch.com offers instant online access to the world's most extensive database of expert insights on global industries, companies, products, and trends. Moreover, MarketResearch.com's Research Specialists have in-depth knowledge of the publishers and the various types of reports in their respective industries and are ready to provide research assistance.
Follow us on Facebook http://www.facebook.com/marketresearchdotcom
Follow us on Twitter http://www.twitter.com/marketresearch_
The Global Commercial Helicopter Market 2013-2023 - Competitive Landscape and Strategic Insights: Market Profile - Table of Contents:
1 Introduction
2 Competitive Landscape and Strategic Insights
3 Appendix