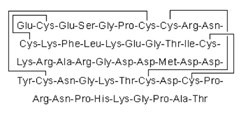 Lewisburg, PA (PRWEB) January 08, 2014
Atlantic Peptides (http://www.atlanticpeptides.com/), a leading peptide manufacturer to academia entities and pharmaceutical companies, announces the launch of its latest product, the H-9019 (or echistatin) peptide. The product addition marks the ongoing expansion within the company to better serve clientele focused on peptide therapeutics.
The H-9019 peptide, also known as echistatin by scientific terminology, is a 49-amino acid polypeptide, or chain, with 4 cystine bridges from the venom of a snake, the saw-scaled viper (known as Echis carinatus). The polypeptide contains an RGD sequence that binds to glycoprotein receptors on platelets and inhibits ADP-stimulated platelet aggregation with IC50 = 3.3 x 10(-8) M. In addition, the peptide stimulates osteolastic bone resportion, both in vitro and in vivo; and, the reduction of purified synthetic echistatin to octahydroechistatin with dithiothreitol, combined with air oxidation, regenerated a quantitative yield of identical echistatin sequences.
"We've worked with institutions for more than 15 years, and boast a staff with more than 40 years of experience," said Jon Hanson. "By expanding our product line, we're able to work with even more clients, who can see why our current base attests to the quality and quick turnaround of our products and services."
The Pennsylvania-based company, Atlantic Peptides, manufactures and distributes just that – customized synthetic peptides for pre-GMP research studies for the production of antibodies, as well as provides labeled peptides for assay development. In addition, Atlantic Peptides also supplies polyclonal and monoclonal antibodies to national and international entities for laboratory use.
In addition to offering echistatin to the market, Atlantic Peptides offers the following catalog peptides, which can be ordered offline: amyloid peptides, antimicrobial and related peptides, cancer research peptides, cell permeable peptides and drug delivery peptides, GPCR peptides, Ghrelin peptides, MOG peptides, OVA peptides, and proteolipid proteins.
Along with the use of skilled experts and cutting-edge technology, the peptide manufacturer can deliver research peptides ranging from the milligram to the kilogram in weight, and can compose peptides of more than 130 amino acids in length.
For more information, or to order online, visit http://www.atlanticpeptides.com.
About Atlantic Peptides
Atlantic Peptides manufactures synthetic peptides, as well as provides mono- and poly-clonal antibodies to the academic and life-science industries across the world. Atlantic Peptides also offers personalized, custom services to address individual business needs, and also works with pharmaceutical industries for research studies.