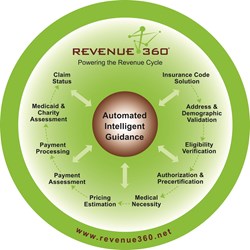 With the numerous regulatory changes coming in 2014 via the Affordable Care Act, it is paramount hospitals enhance their revenue cycle processes to successfully navigate the challenges ahead.
Beaverton, Oregon (PRWEB) November 26, 2013
Provider Advantage NW, Inc. - a Beaverton, Oregon based developer of hospital revenue cycle software solutions, announced that it has released a new version of the Revenue360® Platform.
Provider Advantage has updated the Fourth Generation Revenue Cycle Management (RCM) platform to provide enhanced functionality for hospitals nationwide - including access to over 100 new payers (complete list available here), broader management reporting, increased scalability and processing throughput.
Recently news reports have highlighted the critical nature of leveraging software to effectively manage hospital revenue cycle processes. In one recent report, Doug Brown, managing partner of the market research firm, Black Book rankings, recently stated that "Most hospital CFOs have no choice but to leverage next generation RCM solutions in order to keep their organizations solvent."
The Revenue360 RCM platform provides flexible integration with all major hospital registration and scheduling systems, as well as offering a solution for one-off processing. Revenue360 enables hospital staff to stay in their current system workflow without invoking additional systems to perform and manage front-end revenue cycle processes. It has the ability to integrate with multiple hospital systems simultaneously to ensure data integrity. The platform also offers the flexibility of standalone access to data for hospital systems where integration is not practical.
"With the numerous regulatory changes coming in 2014 via the Affordable Care Act, it is paramount hospitals enhance their revenue cycle processes to successfully navigate the challenges ahead." says Edward L (Ted) Tomkins, President of Provider Advantage. "We will continue our focus on helping hospitals get paid faster through this period of regulatory transition as we continue to expand the Revenue360 platform."
Revenue360 offers real-time, industry leading access to health plans nationwide, via multiple clearinghouses and thousands of public databases. Revenue360 also supports direct connections between the carrier and hospital for cost-effective high volume processing. The platform allows healthcare providers to verify health plan coverage and benefits, confirm the patient is within their network, and to validate patient address and identity to mitigate fraud and reduce billing errors. Additional features provide the ability to estimate the patient's out-of-pocket cost for a scheduled procedure prior to admission, and process payment upfront, or otherwise determine the patient's qualification for Medicaid or hospital charity programs.
The new release of Revenue360 is now available to hospitals nationwide, and the upgrade is free for all Revenue360 customers. Please contact us on the web or via phone at (800) 337-5482 for more information, or to request a demo.
About Revenue360®:
Revenue360 Helps Hospitals Get Paid Faster. By integrating public data into the healthcare provider's workflow, Revenue360 leads staff to higher point-of-service collections and prevents common errors, resulting in cleaner claims.
Providing customized guidance based on the user's business rules, Revenue360 simplifies complex processes including insurance coding, eligibility verification, address and demographic validation, medical necessity, pricing estimation, payment assessment, e-cashiering, and Medicaid and charity assessment.
Revenue360 reduces rework, increases and accelerates total revenue, and improves customer satisfaction through better patient communication.
Learn more at: http://www.revenue360.net
About Provider Advantage:
Since 1991, Provider Advantage NW, Inc. has been providing innovative products and services to access real time healthcare data. Provider Advantage develops, markets, installs, and supports electronic data interchange (EDI) technologies that allow organizations to obtain, utilize, and manage insurance data to generate operational efficiency and improve cash flow.
For more information, contact Provider Advantage NW at (800) 337-5482 or visit http://www.provider-advantage.com
Provider Advantage and Revenue360® are trademarks of Provider Advantage NW, Inc.
© 2013 Provider Advantage, Inc.
All Rights Reserved